Washington Swamp Nailed by Surprise Investigation – Jim Jordan Wants Answers on 1 Critical Issue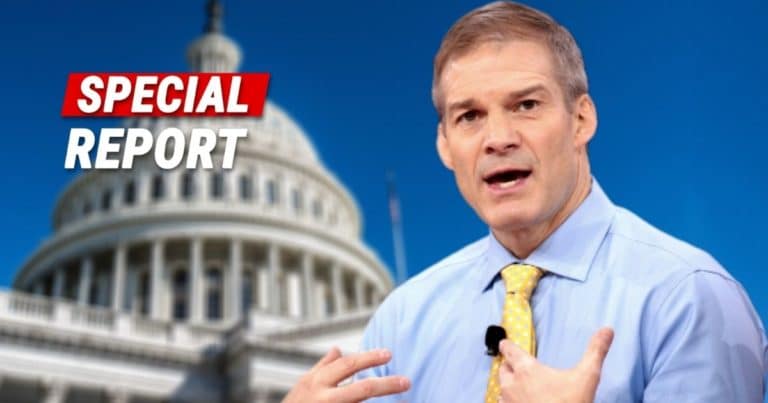 What's Happening:
Everybody knows that the political swam in Washington, D.C., is always working to dig up dirt on political opponents. Story after story over the years shows that some political elitists will go to any length to get what they want.
A big problem that has been exposed over the past eight years is how the swamp is using taxpayer dollars to unearth the dirt – or fabricate lies. This is a despicable element working within Washington underbelly and the danger of this problem is getting overshadowed by current events.
One Republican congressman isn't letting this story slide and has put Washington on notice that he will uncover the truth. He launched an investigation into how and why the Department of Justice is allegedly spying on congressional staff and members of Congress.
From the Washington Examiner:
"We now know that they spied on congressional staffers," Jordan said. "We want to know; how far does it go? Were they spying on members? Were they spying on other staffers?"
Jordan, chairman of the House Judiciary Committee, announced the investigation during an appearance on Fox Business's The Evening Edit with Elizabeth MacDonald. He pointed out that it is already known that the DOJ spied on former President Donald Trump's campaign and department officials lied to the FISA court to investigate Trump staff members.
Jordan is accusing the DOJ of spying on one of Sen. Chuck Grassley's (R-IA) staff members, Jason Foster. Foster is Grassley's former chief investigative counsel. Jordan is demanding answers because the alleged spying happened when Grassley, then-Senate Judiciary Committee Chairman, was conducting vigorous oversight of DOJ matters.
Jordan is stretching his investigation into the private sector to get answers. He sent letters to the CEOs of Alphabet, Apple, AT&T, T-Mobile, and Verizon, along with Attorney General Merrick Garland, demanding information. He wants to know what happened with alleged attempts by the DOJ to obtain the private communications of members of Congress and their staff.
"The Justice Department's efforts to obtain the private communications of congressional staffers, including staffers conducting oversight of the Department, is wholly unacceptable and offends fundamental separation of powers principles as well as Congress's constitutional authority to conduct oversight of the Department," the letter to Apple CEO Tim Cook read.
Jordan is digging for more information about the DOJ allegedly issuing subpoenas to obtain emails and records from congressional staffers on the House Permanent Select Committee on Intelligence. These staffers were working to get information about the department's Crossfire Hurricane investigation.
"These revelations strongly suggest that the Justice Department weaponized its law-enforcement authority to spy on the entities seeking to hold it accountable," the letter stated.
Jordan has shown repeatedly that he doesn't trust federal agencies to disclose the truth about their operations. He has targeted his investigations to uncover any alleged weaponization of the DOJ under the Biden administration,
Key Takeaways:
Jim Jordan opens investigation into alleged DOJ actions targeting elected officials.
Reports allege the Biden DOJ were spying on members of Congress and staffers.
Investigation focuses on alleged weaponization of the DOJ during Biden's term.
Source: Washington Examiner