Trump Slaps Biden With 2 Harsh Labels – And His Supporters 100% Agree With Both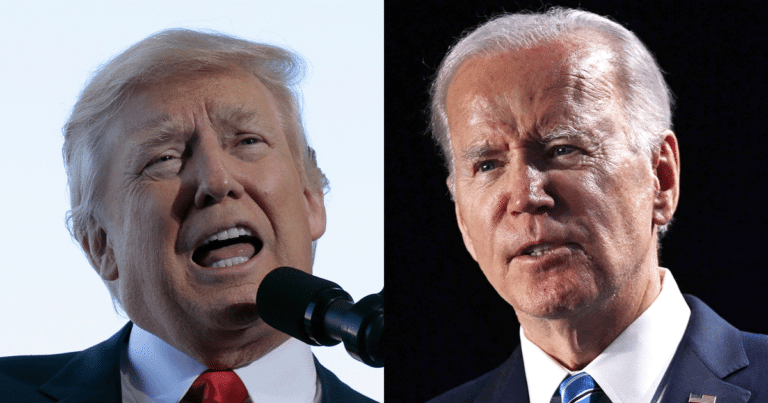 What's Happening:
In case you missed it, former President Donald Trump isn't backing down against the onslaught of weaponized government agencies attacking him and he isn't letting the current occupant of the White House off the hook.
Every day it seems some new information exposes President Joe Biden for the dark-hearted swamp rat that he is in D.C. Trump began warning Americans four years ago about Biden's potential for corruption. Trump unleased another scathing assessment of the trouble Biden is causing this country.
From Breitbart:
Former President Donald Trump, the leading GOP candidate for president in 2024, told Breitbart News exclusively that incumbent Democrat President Joe Biden is the "most corrupt president we've ever had."
Trump previously used "crooked" to describe Democrat Hillary Rodham Clinton. He dropped the label for her and applied the moniker to Biden because, as he told Breitbart:
"…the word Crooked I think was very pertinent," Trump said. "It was a very good word for Biden. He's Crooked."
Trump's scathing opinion of Biden follows congressional investigations showing the current president's alleged illegal money schemes with foreign nationals and Biden's failing policies at home and around the world.
From Breitbart:
"You look at what happened in Afghanistan, you look at inflation, you look at the economy, you look at what's going on—no, he's the worst president we've ever had in our country," Trump said.
Pretty much every poll of Americans shows that most people believe Biden is doing a bad job. As Congress continues its investigations into alleged Biden family corruption, more people across voting demographics appear to be turning against Biden. Republicans in Congress are rattling their sabers at possible impeachment inquiries of Biden.
From Breitbart:
The mounting evidence against the president has led to House Speaker Kevin McCarthy (R-CA) saying House Republicans are on the verge of formally opening an impeachment inquiry into the president's conduct, a move that requires a majority of the House to approve a resolution granting the chamber extraordinary powers of investigation that normal committees do not have.
A formal impeachment might pass in the House, but it will fail in the Senate with only 49 Republicans on the roll. The key is to expose facts about any Biden activities that could prove corruption while in office either as vice president or president.
Trump faces a hard-fought battle to regain the White House. His popularity in the polls may be growing, but Democrats and Biden's weaponized federal agencies are hunting the former president in any way possible. Trump must continue to fight along the campaign trail as he prepares to defend himself against a slew of D.C. swamp-fueled criminal charges.
Republicans need to make haste with any evidence they can produce that further exposes Biden for any potential crimes. This is a fight for the future of the country like nothing anyone has seen before. Don't count the street-fighting Trump out before next November.
Key Takeaways:
Donald Trump tags Joe Biden with scathing political label.
Former president calls Biden "worst president" in history.
House and Senate work to uncover possible Biden corruption.
Source: Breitbart