After Top Universities Back Hamas – They Get Blindsided with Bad News from Donors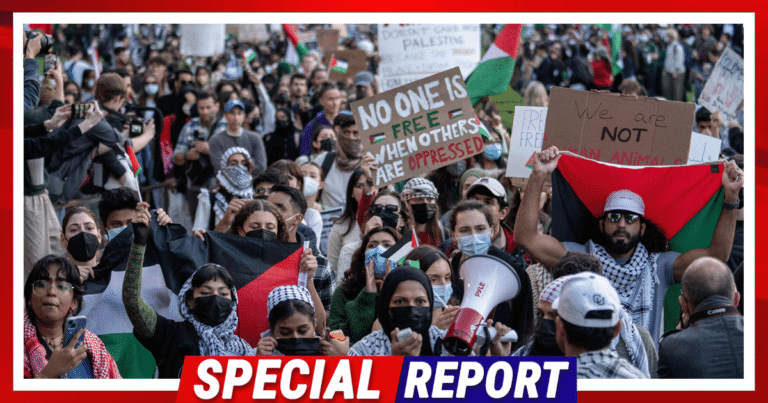 What's Happening:
Around the world, citizens and governments have voiced their support for Israel. The international community is horrified by the attacks by Hamas, which have left over 1,000 civilians dead or kidnapped.
But, to the shock of many, some progressives across America are siding with Israel's enemy. They call Israel an "apartheid state" and have appeared to justify the horrific acts of Hamas.
Even major American universities have issued statements criticizing Israel and seemingly supporting the terrorist organization. This has not sat well with organizations that support these schools, nor powerful donors. And they are striking back.
From The Post Millennial:
On Tuesday, Wharton School of Business board of advisors chairman Marc Rowan slammed institutions of higher learning across the country over their response to Hamas' massacre of civilians in Israel. He urged donors to take note, and stop giving to schools that pander to terrorist sympathizers…

"While Hamas terrorists were slaughtering Israeli Jews, university administrators were figuring out how to spin it," Rowan wrote in the Free Press. "Across academia, administrators issued statements on behalf of their institutions expressing a repulsive moral equivalence between victims of terror and the perpetrators of that terror."
Billionaire Marc Rowan is calling on donors to major universities to "close their checkbooks" in the aftermath of the Hamas attack. He specifically hit the University of Pennsylvania. Two weeks before the attacks, the school hosted a Palestinian literary festival.
But according to Rowan, the event did not discuss literature, but hosted speakers who "repeated various blood libels against Jews" and "advocated ethnic cleansing." Rowan called for donors to demand UPenn's president and chairman to resign.
He also noted that many top universities across the country were seemingly downplaying the attacks or trying to defend them. Radical leftist progressives have come out in support for Palestine, defending the actions of Hamas by blaming Israel for the terrorist attacks.
These progressives apparently do not see a distinction between the terror group and the people of Palestine. They seem to dismiss the horrific murders and kidnappings and are outraged that Israel is fighting to defend itself. Some chapters of Black Lives Matter are openly associating themselves with Hamas.
Progressive responses to the attacks have repulsed many Americans. Former leftists have renounced the left, shocked that American groups would defend the actions of Hamas.
CEOs of major companies are pushing back against the academic response to the attacks, vowing to not hire graduates who sided with Hamas.
Key Takeaways:
A top academic donor has called on donors to withhold funds to major universities.
Marc Rowan did this in response to many schools seemingly siding with Hamas.
Progressives across the country blamed Israel for the attacks and appeared to defend the terror group.
Source: The Post Millennial