Brave GOP Leader Hits Biden with 1 Brutal Accusation – And She Says He's Done It More Than Once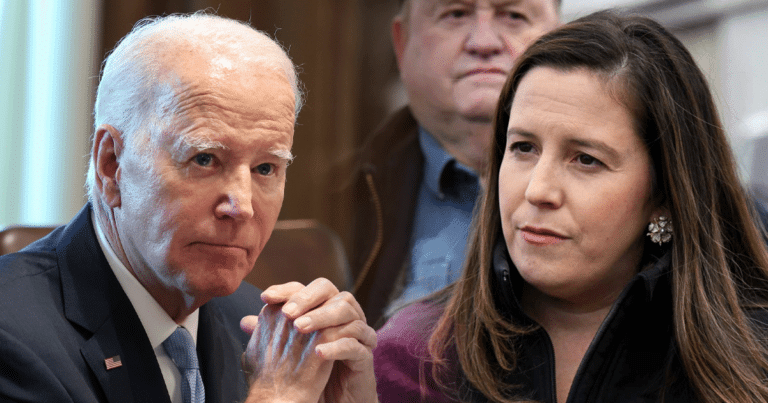 What's Happening:
House Republicans have begun an impeachment inquiry against Joe Biden. The probe revolves around the possibility that Biden conducted a bribery ring while in office. Republicans claim he used his son Hunter to secure cash from foreign businesses, in exchange for favors.
For years, Biden has avoided suspicion by claiming he had no knowledge of Hunter's business affairs. Staff within the Biden administration continued to repeat this claim.
But evidence uncovered by Republican investigators has revealed that Biden did, in fact, interact with Hunter's associates. Hunter even called Joe many times during business meetings. And now, one top Republican is accusing Biden of "repeatedly" doing this.
From Fox News:
"There can no longer be any dispute that Joe Biden and his staff have repeatedly lied to the American people about his knowledge of and involvement in his son Hunter Biden's foreign business dealings," GOP Rep. Elise Stefanik told Fox News Digital.

"House Republicans' rigorous investigations have uncovered mounting evidence that Biden not only knew about Hunter's business dealings from phone calls to meetings, but was a willing participant."
The Biden White House had formerly echoed Biden's statement that he knew nothing of his son's businesses and "never discussed" it with Hunter. When evidence began to emerge to challenge this claim, the administration appeared to alter its narrative.
Biden press secretaries said Biden was "never in business" with his son. This is a very different claim than Biden having no knowledge of Hunter's businesses. More evidence is emerging that might convince Americans that Biden both was in business with Hunter and engaged in bribery.
Rep. Elise Stefanik has accused Biden and his White House staff of "repeatedly" lying to the country about Joe's connection with his son's businesses. She pointed to "mounting evidence" to accuse Biden of being a "willing participant" in his son's business affairs.
The Republican went on to cite the recent bombshell that Hunter used his father's address to receive two wire transfers from China. Stefanik claimed Biden is "compromised." It is possible the evidence provided by House investigators will lead to an impeachment vote.
With a Republican majority in the House, it is possible Biden will be impeached. But a final conviction, and removal from office, will rest in the hands of the Democrat-run Senate. It is unclear how the Senate will handle a possible impeachment verdict from the House.
Given the Democrats' doggedly denial of Biden's charges, they might not even hold an impeachment trial.
Key Takeaways:
Republican Rep. Elise Stefanik claimed Biden "repeatedly lied" to America about Hunter.
Biden had long claimed he "never discussed" business with his son.
Evidence has shattered that claim, as Republicans accuse Biden of engaging in bribery.
Source: Fox News