Rashida Tlaib Loses It During Rally – Then Sends a Message to Biden That Sounds Like a Threat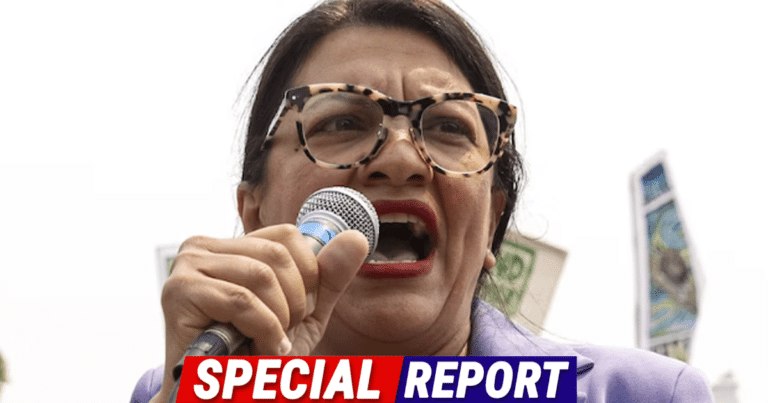 What's Happening:
Israel has been at war with terror group Hamas–and their allies–for two weeks now. They are fighting in response to a horrific attack that left thousands dead or injured. Even now, there are numerous hostages being held by Hamas.
The nation of Israel has vowed to destroy Hamas. Many people around the world have voiced support for Israel, in the aftermath of these attacks. But, to the shock of many, some Democrats in the United States have berated Israel's response and seemingly defended their enemy.
Rep. Rashida Tlaib, a Palestinian immigrant to the U.S., has strongly attacked Israel's response to Hamas. And she is spreading a claim that has been debunked by IDF and the United States.
From Breitbart:
Rep. Rashida Tlaib (D-MI) reportedly ignored journalists on Capitol Hill Wednesday pressing the congresswoman about her now-debunked statement blaming Israel for the deadly blast at a Gaza hospital that killed hundreds of Palestinians.
Tlaib spread a claim made by Hamas that Israel "bombed" the hospital. However, footage of the failed missile launch shows that it originated in Gaza and the hospital was an unintended target. U.S. officials also investigated the strike and concluded it came from a hostile group within Gaza.
Despite this, Rep. Tlaib has not appeared to rescind her claims and ignored reporters asking her for answers. This comes after reporters previously questioned her support for Israel's enemies, despite evidence of the horrific attack against helpless civilians.
Instead of apologizing, the Democrat issued a troubling warning to President Biden.
From Daily Wire:
Tlaib continued spreading the false claims during the rally and even made a veiled threat at President Joe Biden, saying: "I want him to know, as a Palestinian American, as also somebody of Muslim faith, I'm not going to forget this. And I think a lot of people are not gonna forget this."

"… They think we're joking. I mean, I think the White House and everyone thinks that we're just gonna sit back and let this just continue to happen! No! The fact of the matter is, our lives are not safe with Joe or the forever [im]peached president!"
Rashida Tlaib, an elected member of Congress, called out the president and issued an ominous-sounding warning. During a rally, she continued to spread a now-debunked claim that Israel attacked a hospital in Hamas.
Israeli forces, as well as U.S. intelligence agencies, confirmed that the rocket that struck the hospital parking lot was fired by "Palestinian fighter positions within Gaza." Tlaib has seemingly ignored this information and told Biden "I'm not going to forget this."
Critics will pounce on this claim, suggesting Tlaib is not loyal to the United States, and other will consider this a threat against the president. At one point, she even accused Biden of committing "your genocide."
The Israel war has opened the eyes of many on the left: they are waking up to see that some progressives are radicals who might not have America's best interests in mind. As a result, many Americans are turning away from extremist ideology that ignores terrorism and attacks its victims.
Key Takeaways:
Rashida Tlaib continues to spread a debunked claim that Israel attacked a hospital.
She ignored reporters who revealed the rocket came from Gaza.
During a rally, the Palestinian Muslim appeared to issue an ominous warning to President Biden, seemingly blaming him for "genocide."
Source: Breitbart, Daily Wire