Supreme Court Just Got a Historic Request – This Case Could Change Everything in America's Streets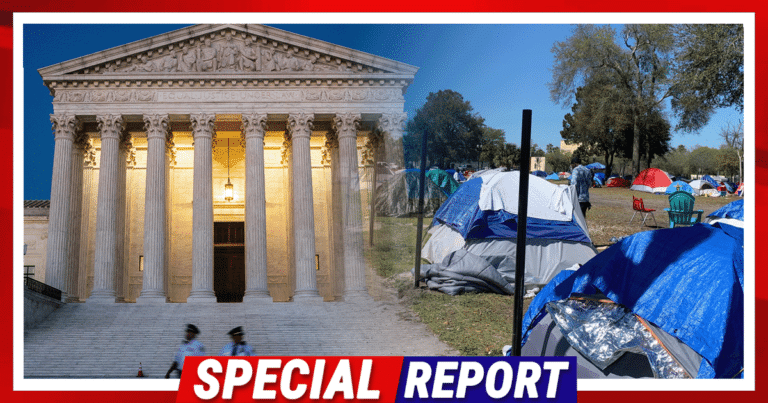 What's Happening:
It has been well-documented that the homeless situation has reached crisis levels in many states. Most of these states are Democrat-run. Critics have blamed liberal policies that have legalized drugs and spent billions on entitlement programs for the reason homelessness has risen.
In many blue cities, residents are forced to live beside large homeless encampments. These "shanty towns" pose a real threat to residents. Many have asked why Democrat leaders haven't cleared away these encampments.
Some have pointed to city ordinances that prevent police from removing these encampments. Others, like Democrat governor of California, Gavin Newsom, blamed court rulings that denied cities the ability to get rid of these settlements. Now, numerous advocates are fighting back. And they might take it to the highest court.
From The Post Millennial:
Numerous bodies across the US are pushing for the Supreme Court to review a court ruling that prevents cities from enforcing bans on homeless encampments in public spaces…

In Johnson v. Grants Pass, the 9th Circuit Court of Appeals affirmed a permanent injunction that enjoined or stopped, a city ordinance enforcing public camping prohibitions unless the city first provides shelter beds for each homeless individual in the jurisdiction.
Rulings from progressive courts have claimed it was "cruel and unusual punishment" for a city to clear away a homeless encampment. Now, the state of California is joining a variety of cities, municipalities, and organizations petitioning the Supreme Court to rule on the matter.
The major roadblock in the issue is a ruling from the Ninth Circuit Court of Appeals. This ruling banned cities from enforcing laws that ban "public camping." According to some Democrats, this ruling is the main reason large blue cities are overrun with homeless.
In many cities on the West Coast, the homeless are crowding the streets, living in camping tents. Many are living under bridges, in parks, and on other public property. These homeless have endangered the lives and livelihoods of many residents.
Gov. Newsom claimed the state has spent billions to help these homeless, but it has been prevented from coaxing the homeless into using these resources.
The homeless crisis has reached a breaking point, with numerous residents demanding action. It seems Democrats are fearing for their careers if nothing is done. One might wonder why it took so long for these cities to do something, as the crisis has been going on for years.
The Supreme Court could overturn the lower court, paving the way for cities to remove homeless encampments. But critics might point out that Democrat policies could still serve as a magnet for the homeless. Legalizing drugs and providing ample free handouts might only attract more homeless to California and other liberal-run states.
Key Takeaways:
California and other groups are petitioning the Supreme Court over the homeless crisis.
These groups claim the Ninth Circuit has prevented cities from clearing away homeless encampments.
In one case, the progressive court claimed it was "cruel and unusual punishment" to remove these dangerous "tent cities."
Source: The Post Millennial