After Speaker Johnson's Paycheck Secret Slips Out – Americans Race to His Defense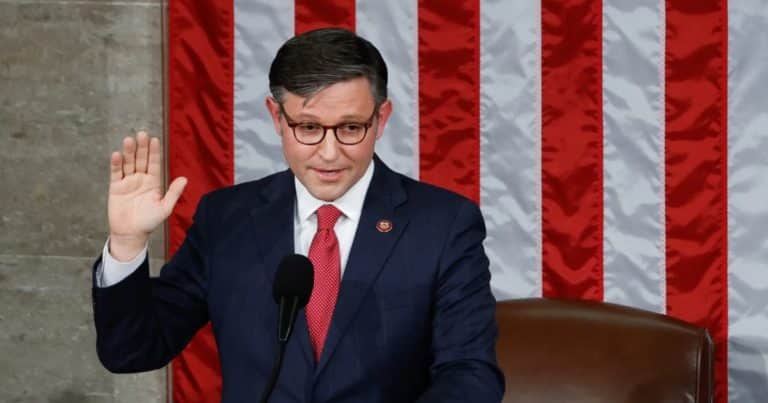 What's Happening:
Many will say that liberals have historically criticized those in this country who achieve higher financial status thanks to capitalism. But leftists have shown they can turn on anyone regardless of their success status as long as that person opposes their radical ideals.
One of the most high-profile Republicans is under attack, not because of financial success, but because he is supposedly broke. He's not woke, so critics say his "broke" doesn't count.
A leftist-oriented publication is now criticizing Republican House Speaker Mike Johnson because he appears to be living paycheck to paycheck like most Americans. Leftists evidently don't like that he hasn't enriched himself while in office, like so many Democrats.
From Fox News:
The Daily Beast published a report headlined, "Does New Speaker of the House Mike Johnson Have a Bank Account?," which featured a subhead that said he "has never listed a bank account on his financial disclosure. In fact, on his newest disclosure he doesn't list a single asset at all."
In other words, the man isn't filthy rich after years in politics, and it seems some people can't comprehend such a lifestyle. The hit piece goes on to rail about Johnson not chowing bank accounts in his name, his wife's name, or for any of his children. Daily Beast senior political reporter Roger Sollenberger wrote the piece and acts shocked that Johnson "doesn't appear to have money stashed in any investments."
Details throughout the hit piece are nuanced in a way that characterizes Johnson has hiding something from the public. When they can't find any sordid finances, liberals just attack the character of the people they hate.
"What's more likely is Johnson lives paycheck to paycheck — so much so that he doesn't have enough money in his bank account to trigger the checking account disclosure rules for members of Congress," Sollenberger bantered.
Backlash against the hit piece and support for Johnson spread across social media. Everyone from elected officials to cable news pundits chimed in to slap back against the leftist attack.
"The Daily Beast is furious that @SpeakerJohnson isn't rich, corrupt or rich from being corrupt. He doesn't have shady business deals. He doesn't trade stocks as a congressman," Rep. Matt Gaetz, R-Fla., posted on X. "Cry more, I guess?"
Rep. Chip Roy, R-Texas, added, "So, to extent accurate, he's like a lot of Americans right now while also navigating raising a large family? What a monster."
Rep. Lauren Boebert, R-Colo., wrote, "So the Daily Beast wants people to be mad that Speaker Johnson isn't corrupt and hasn't used his office to enrich himself? This is how out of touch these guys are."
And author Tim Carney joked, "Who let in the poors?!?"
For us, it's nice to know that a person living like the people and working for the people is now leading the U.S. House.
Key Takeaways:
Leftist hit piece tries to undermine House Speaker Mike Johnson.
A liberal reporter claims there is a problem with Johnson's finances.
Politicians and the public respond by hammering the liberal nonsense.
Source: Fox News