Russia Slammed By Devastating Setback – This Could Change the Entire War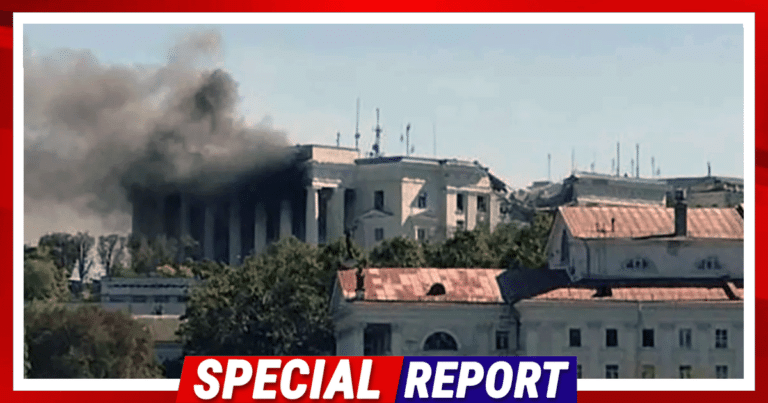 What's Happening:
Russia and Ukraine have been fighting since 2022. Despite billions spent by the United States government (and other countries) there does not appear to be an end in sight. Russia has made gains, devastating cities across Ukraine. Countless Ukrainians have fled their homeland, living as refugees in neighboring countries.
Many pundits have questioned America's continued funding of the Ukrainian war. Some have warned that this conflict could spill into a large conflict across Europe. Now, Ukraine is claiming a victory against the Russian invaders. How this will affect the larger conflict, remains to be seen.
From The Sun:
Footage shows black smoke billowing from the burning and partially collapsed building in the Russian-held Crimean city of Sevastopol after Kyiv's latest assault on the peninsula.

The Russian-appointed governor of Sevastopol, Mikhail Razvozhaev, confirmed today's devastating attack, which is believed to have been caused by a British or French-supplied Storm Shadow missile.
According to reports, Ukraine scored a large victory against Russia. Using a British or French-supplied "Storm Shadow missile," Ukraine struck the Russian-held city of Sevastopol. Footage shows smoke rising from Putin's Black Sea Fleet headquarters.
Despite being a reported HQ, only six soldiers are reported injured, with one missing, and one killed. It's unclear why only a few people were stationed at a supposed headquarters for the Russian navy.
Many Americans have grown disgruntled by Joe Biden's continued support for the war. Republican leaders, including Mitch McConnell, have also demanded more billions to fund Ukraine's conflict with Russia. Several Republican candidates for president, including Mike Pence, have voiced support for this war–despite ongoing economic struggles facing the United States.
Donald Trump and Ron DeSantis, as well as Democratic candidate Robert F. Kennedy Jr., have been vocal critics of the war.
Key Takeaways:
Ukraine allegedly struck a Russian naval HQ station in Crimea.
Russia reports claim a missile provided by Britain or France struck the building.
The war between Ukraine and Russia has been going on since early 2022.
Source: The Sun