RFK Betrays His Party in Latest Move – Turns Against Biden with 1 Hard-Hitting Demand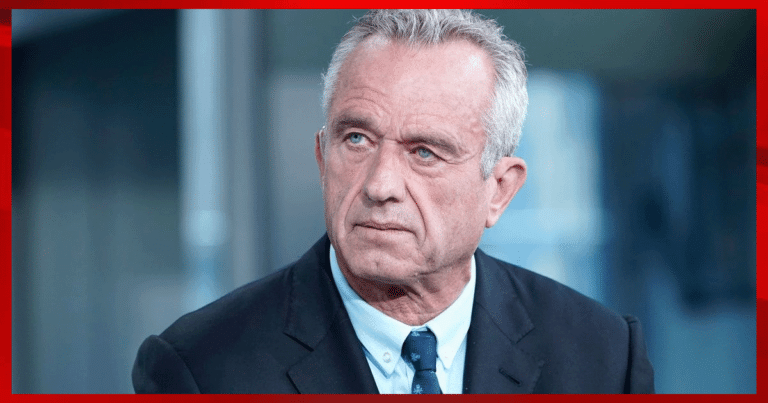 What's Happening:
If Democrats were smart, they'd ditch Joe Biden as fast as they could to back Robert F. Kennedy Jr. The man is a moderate Democrat who is trying to reach voters on both sides of the aisle. He doesn't appear to be a shill for the woke establishment. Plus, he's not senile! But the left refuses to give RFK any credit, siding with a man who is not long for this world.
Kennedy has been critical of Biden's failed presidency. But there were a few issues he previously refused to touch. However, big developments have hit the country recently. Now it seems that not even Kennedy can ignore the huge plumes of smoke coming from the Biden fire. And, he making a big demand.
From The Daily Wire:
Democratic presidential candidate Robert F. Kennedy Jr. called for an investigation into President Joe Biden during an interview over the weekend in light of an FBI form that was released this week that outlined allegations of corruption against Biden…

"I think though the issues that are now coming up are worrying enough that we really need a real investigation of what happened," he said.
Robert Kennedy is calling for an investigation into Joe and Hunter Biden's nefarious bribery scheme that has spanned numerous years. Earlier, Kennedy refused to comment on the situation, despite everything we've all seen.
But the IRS testimony and the FBI document were enough for even a moderate like Kennedy to grow concerned. Kennedy pointed out that the FBI informant accused Biden of receiving at least $10 million for the corrupt Ukrainian company his son worked for.
These are things we've been hearing about for years. But now, we have an official FBI document with a credible informant blowing the lid wide open. Not even a man like Kennedy, a Democrat who is going to great lengths to avoid criticizing his rivals, is saying we need an investigation.
But does that mean we'll get one? Technically, House Republicans are investigating the Bidens' corruption. It appears Kennedy means an investigation by the DOJ, which can then charge Biden with wrongdoing.
It might be a cold day in Texas before we see that happen.
Key Takeaways:
Robert F. Kennedy Jr. called for an investigation into the Bidens bribery scheme.
He has previously refused to comment on the many stories of the Bidens' corruption.
The FBI form from an informant seems to have convinced Kennedy that something must be done.
Source: The Daily Wire