Swamp Whistleblower Unleashes New Evidence – And His Opening Statement Has Hunter Panicking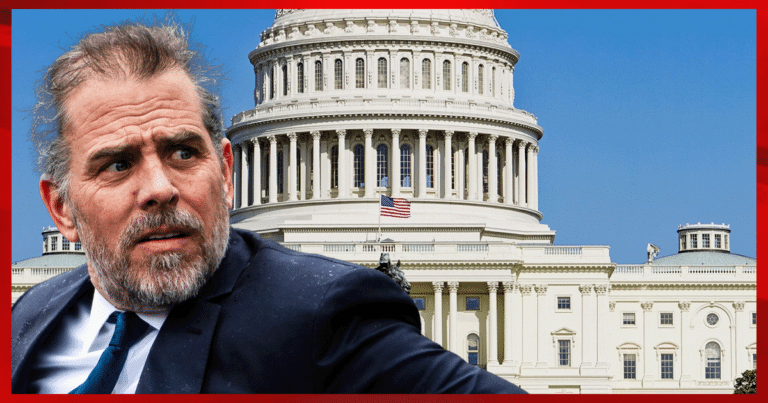 What's Happening:
While Democrats are running around rabid trying to indict Trump again and again, they are ignoring something very important. They are accusing Trump of wrongdoing, but seem to be lacking hard evidence. Meanwhile, the Bidens are just a step away from facing–maybe not an indictment–but bombshells that will bury Joe and his associates.
Two brave souls from the IRS are calling out how Biden's DOJ pressured the agency to go soft on Hunter Biden. This was so the IRS wouldn't investigate where Hunter got certain, large sums of money. It was a clear attempt to protect Joe from scrutiny and possible accusations. But these whistleblowers refuse to let this go unreported. They will be taking a big risk for the country. And one of them is coming out swinging.
From Fox News:
Two whistleblowers who alleged the Justice Department politically interfered with an investigation into President Biden's youngest son, Hunter, will testify before Congress at 1 p.m. Wednesday…

According to an opening statement released ahead of the hearing, the unidentified official intends to describe himself as a "whistleblower compelled to disclose the truth"…

"I have witnessed the corrosion of ethical standards and the abuse of power that threaten our nation… The American people deserve to know the truth no matter how uncomfortable or inconvenient it may be for either political party."
Wow. Who would have thought such brave patriots worked at the IRS? One of the whistleblowers outing the DOJ is a 13-year special agent for the organization. In his opening statement, he revealed he was "present at the start" of the investigation into Hunter Biden.
It appears he has close knowledge of what went on. And he's accusing the left of shocking "abuse of power" that is threatening our entire nation.
These whistleblowers will be testifying before leaders of the House Judiciary, Oversight and Accountability, and Ways and Means committees. Democrats will no doubt try to tarnish the testimonies of these brave Americans. But thanks to a Republican majority, these whistleblowers' voices will be heard.
It's hard to know what will happen, if and when their testimony confirms wrongdoing. It is unlikely the DOJ will actually end up prosecuting their own agents who undermined the law. And it will certainly not indict Biden or his son, for whom they've violated the law repeatedly to protect.
But America needs to know. We cannot let people like Joe and Hunter Biden get off the hook. And we certainly can't let Joe remain president.
Key Takeaways:
IRS whistleblowers will testify before Congress on their accusations against the DOJ.
These agents claim the DOJ interfered with the IRS's investigations against Hunter Biden.
One of them said there has been a "corrosion of ethical standards and the abuse of power that threaten our nation."
Source: Fox News