DeSantis Campaign Takes a Surprise Hit – He'll Lose Millions If He Doesn't Do This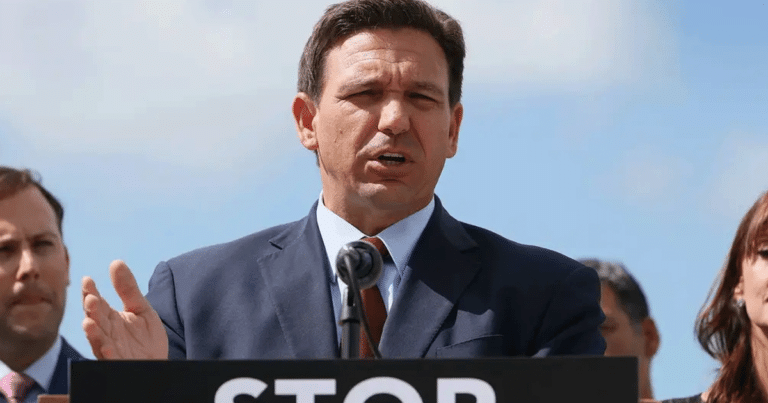 What's Happening:
One of the best parts of a democratic election process is having candidates campaign based on their personal positions so voters can decide who they want to support. This process is the bedrock of U.S. elections and helps voters weed out candidates on the way to throwing everything behind their champion.
This presidential election cycle has proven a tough road for Republican candidates trying to distinguish themselves under the shadow of former President Donald Trump. He has a commanding lead in the polls and a campaign war chest that seems endless.
The chief challenger against Trump early on has been Florida Gov. Ron DeSantis. But DeSantis has faced several campaign staff upheavals and questions about his ability to gain ground against Trump's campaign finance machine. DeSantis took another financial hit last week with news from his largest single campaign donor.
From Breitbart:
Robert Bigelow, the biggest individual donor supporting the presidential campaign of Florida Gov. Ron DeSantis (R), told Reuters he would not be donating any more money unless DeSantis makes a more moderate shift and attracts new major donors.
That is a big blow to DeSantis' donation prospects as the Bigelow Aerospace founder has delivered $20 million so far to support the governor, according to Breitbart. Large donations fall off significantly with the next highest at $2 million, the outlet reported, and DeSantis has reportedly struggled to attract small donors on a large scale.
DeSantis has openly criticized liberal politics to this point in the election cycle and is holding to what some might consider more extreme views on key issues such as abortions. DeSantis hasn't backed down on his convictions and plans to rein in the federal government's power if elected president. The harshness of his overall stance doesn't appear aligned with his largest donor.
"He does need to shift to get to moderates. He'll lose if he doesn't … Extremism isn't going to get you elected," Bigelow told Reuters on Friday.
DeSantis and team will need to reevaluate his stance on a variety of topics as the campaign heats up. Trump doesn't appear worried about any GOP challengers as he goes hard at Democrats in speeches and media interviews. DeSantis, according to Breitbart, may want to listen to his largest donor who said publicly he won't donate any more until DeSantis can ramp up his campaign coffer from other donors.
"Not until I see that he's able to generate more on his own. I'm already too big a percentage," Bigelow told Reuters. Bigelow also said, "a lot of his donors are still on the fence."
DeSantis has laid off dozens of staffers in recent weeks and at least one other donor has bailed on the strict abortion stance the candidate holds. Florida has a six-week abortion restriction put in place while DeSantis has been in office.
Republican donor Andy Sabin "soured on DeSantis and threw his support behind Senator Tim Scott in part due to the abortion issue," Reuters reported.
There are more large donors with similar sentiment reportedly moving to other candidates or not pledging as much to DeSantis' presidential campaign as they did in his bid for governor. Despite the struggles DeSantis does have financial support to continue along the campaign trail.
Despite the pause on donations, Bigelow still believes DeSantis is "the best guy for the country."
If a shift from DeSantis is on the way, it needs to happen quickly. Reports show he is losing ground to Trump while other GOP candidates are gaining on him. That "squeeze" from top to bottom doesn't bode well for any challenger.
This week's Morning Consult survey found that DeSantis has just 15 percent support among Republican primary voters. On the other hand, former President Donald Trump has a 43-point advantage over DeSantis, coming in at 58 percent support.
This election cycle is just getting started and there are many variables that could affect the GOP campaign. Trump faces more criminal charges and an angry regime media complex that worships Joe Biden. Will this be a case of last challenger standing if Trump is derailed by leftists? Maybe, but DeSantis or any other candidate must begin focusing on general election topics to capture voters outside the party base to topple the Democrat nominee in 2024.
Key Takeaways:
DeSantis faces an internal campaign finance challenge.
Big-time donor calls for changes in "stance" to succeed.
DeSantis has struggled with campaign staff and fundraising.
Source: Breitbart