Anti-Israel Protesters Make 1 Terrifying Move – Look What They Tried to Invade In D.C.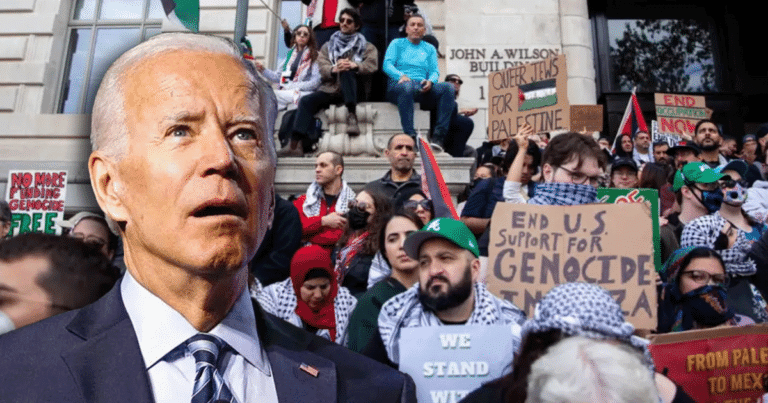 What's Happening:
It appears Democrats have been somewhat tolerant of protesters who are calling for Israel's demise. They have even scoffed at Republicans, including Ron DeSantis and Donald Trump, who have suggested pro-Palestinian, anti-Israel immigrants should lose their visas.
But Democrats and the mainstream media are going to have a hard time explaining what transpired in Washington over the weekend.
A "National March for Palestine" was held in the nation's capital. And quickly, the "peaceful" event went full-on Antifa.
From The Post Millennial:
Historic US monuments and statues were defaced and vandalized by pro-Palestinian demonstrators in Washington D.C. on Saturday as part of the "National March for Palestine" which was a worldwide demand for Israel to stop its war against Hamas terrorists.
The General Marquis de Lafayette Statue covered in Palestine flags, signs, and graffiti. pic.twitter.com/aqwKKepYgv

— Julio Rosas (@Julio_Rosas11) November 4, 2023
The "peaceful march" for Palestine resulted in many historical statues and monuments being defaced or vandalized by demonstrators. Although they were supposedly protesting Israel's so-called apartheid regime, these protesters saw fit to desecrate American memorials.
But that was only the beginning of what transpired.
From The Post Millennial:
An anti-Israel protest in Washington, DC saw agitators and demonstrators scale the White House fence, wave the Palestinian flag, and shout "intifada."…

Activists wore keffiyahs, carried signs, and chanted for the death of Israel. "Biden, Biden, you can't hide, we charge you with genocide," they chanted.

They demanded that Biden be brought out of the White House.
🚨 Pro-Palestine protesters chant "Allahu Akbar" outside of The White House

— Benny Johnson (@bennyjohnson) November 5, 2023
The anti-Israel protest resulted in demonstrators trying to break into the White House. Some demanded that Biden "be brought out," suggesting they were after some form of mob justice. These pro-Palestinian groups accused Biden of committing "genocide" by supporting Israel's war against a terrorist group.
This comes as progressive Democrats also oppose the U.S.'s support for Israel. A line in the sand appears to have been drawn between Democrats who support the democratic state of Israel and the hostile regime of Palestine.
It is becoming increasingly harder for liberals to defend these anti-Israel protests. Demonstrators are attacking the United States and its values as much as they do Israel. Will Biden and moderate Democrats speak out against this growing hostility?
Or will they cower to a movement that seeks to wipe out an ally, and threatens the U.S.?
Key Takeaways:
Anti-Israel protestors vandalized statues and monuments in Washington, D.C.
Some scaled the fence outside the White House, making threats to the president.
This comes as some progressives support Palestine and attack Israel.
Source: The Post Millennial, The Post Millennial