After Biden Teases New Mask Mandates – New Footage Shows Joe Excusing Himelf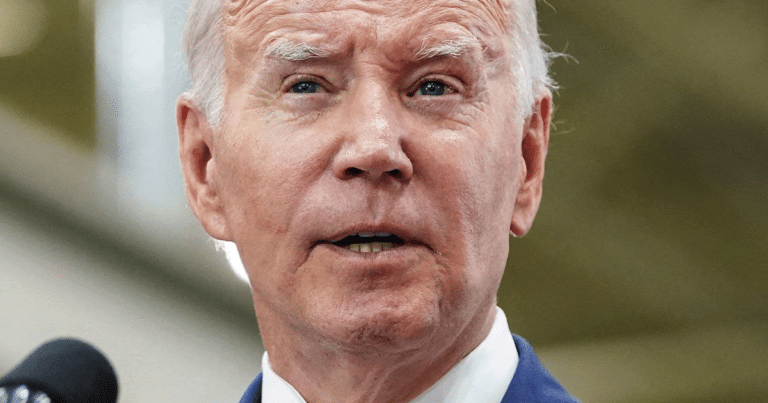 What's Happening:
Over the last three years, Americans have battled with COVID-19. Critics have been harsh on state and federal government's responses. As the cold and flu season sets in, some parts of the country have seen mask mandates return, to the disgusting of numerous Americans.
Rumors have spread that the White House will issue new guidance concerning masks. Doctors had previously advised Biden to wear a mask after his wife tested positive for the disease. But new footage has come out that reveals Joe shirking doctor's orders, and laughing with reporters about it.
From The Post Millennial:
On Wednesday, a bare-faced Joe Biden strutted into a room full of people in the East Room of the White House holding the mask he'd been mandated to wear in public spaces since the First Lady tested positive for Covid on Monday for the second time, despite being vaccinated and receiving numerous booster shots…

"Let me explain to the press," Biden said as he entered the room. "I've been tested again today. I'm clear across the board."

"They keep telling me … I've got to keep wearing it," he added, holding up the black mask, "but don't tell them I didn't have it on when I just walked in."

His comments drew laughter from those in the crowd.

https://twitter.com/TPostMillennial/status/1699489773373534560
It appears that even Joe Biden no longer trusts in mask mandates. In recently released footage, Biden is seen entering the East Room of the White House to speak with reporters. He is unmasked. Biden withdraws a mask from his coat and explains to the press that he is "clear across the board."
Despite his wife's infection, Biden has not tested positive for the disease. Even so, medical pundits have long advised Americans to wear masks, even when not testing positive. Mask mandates were put into place in nearly every state, for both healthy and sick alike.
Biden joked with the reporters by saying the doctors wanted him to wear the mask, which he did not do. And he told them, "Don't tell them I didn't have it on when I just walked in." Reporters can be heard laughing at Biden's joke.
The video drew harsh criticism from commentators and Americans. It appears Biden refuses to wear a mask, despite being told to by doctors. And he jokes about the situation. Meanwhile, his administration and other (often liberal-run) communities have penalized Americans who refused to wear masks.
The laughter appears to be a sign that even the mainstream media no longer believes in the efficacy of masks. They might be confirming the views held by many conservatives, that the mask mandates were more about controlling the public's liberty, than protecting public health.
Key Takeaways:
Biden was seen entering the East Room without wearing a mask, despite doctor's advice.
Joe joked about the situation, telling the reports not to say anything.
This comes as some parts of the country consider reimplementing mask mandates.
Source: The Post Millennial