After Thirty Harvard Groups Blame Israel – School President Issues Bombshell Response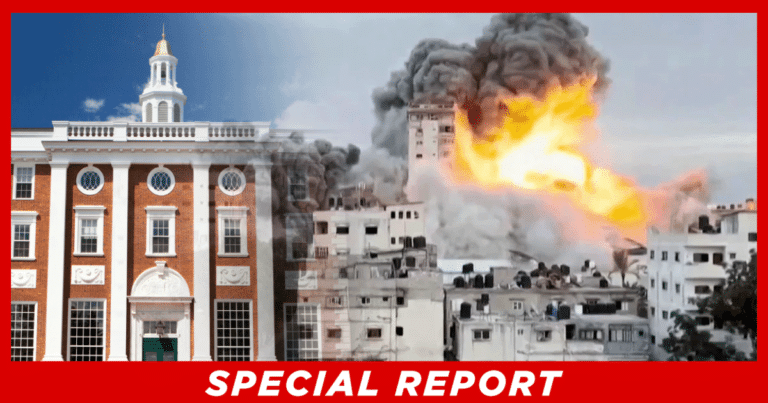 What's Happening:
The unprecedented attacks on Israel have triggered a wide range of comments. Many people and nations have expressed shock and anger over what Hamas did to helpless civilians. Most of Israel's allies issued statements of support.
But even in the United States, there are those who appeared to celebrate the attacks. Some users online slandered Israel and appeared to applaud the actions of Hamas.  And thirty student groups at Harvard University claimed that Israel was "entirely responsible" for what happened.
The school issued a response soon after, stating the position of student groups was not their own. But it appears Americans were not satisfied. So, the president herself released another one, strongly rejecting these groups' sentiments.
From The Post Millennial:
On Tuesday, Harvard president Claudine Gay released a follow-up to her previous statement regarding Hamas' massacre of civilians in Israel…

"As the events of recent days continue to reverberate, let there be no doubt that I condemn the terrorist atrocities perpetrated by Hamas," Gay began…

"Let me also state, on this matter as on others, that while our students have the right to speak for themselves, no student group — not even 30 student groups — speaks for Harvard University or its leadership," she added.
After critics slammed Harvard's original statement after the Israel attacks, the school's president issued another one. Claudine Gay stated she "condemned the terrorist atrocities" committed by Hamas against Israel.
She went on to state that students "have the right to speak for themselves." But she made it clear that those who seemed to support Hamas and slander Israel did not speak for the school "or its leadership."
The famed university was put in an unenviable situation after 30 student groups called Israel an "apartheid regime" and seemingly defended the attacks. The school could not ignore what the students posted, nor could it violate their right to free speech.
But the original statement released by Gay did not go over well with Americans who joined Israel in mourning those lost. The second statement put a stronger emphasis on the president's condemnation of the attacks.
There appears to be a growing sentiment among leftists to support the actions of Hamas. Some progressive groups and individuals, including BLM, appeared to dismiss the unprovoked attacks, claiming Palestinians to be victims of Israel's oppression.
Such comments have been met with intense backlash by the international community, especially as the full scope of the attacks (which are ongoing in some places) continues to come into view.
Key Takeaways:
Harvard President Claudine Gay released a second statement addressing the Hamas attacks.
She condemned the attack, which some students appeared to applaud.
This came after 30 Harvard student groups slandered Israel as an "apartheid regime."
Source: The Post Millennial