After New Fauci Evidence Explodes – Rand Paul Drops His Biggest Hammer on the Doctor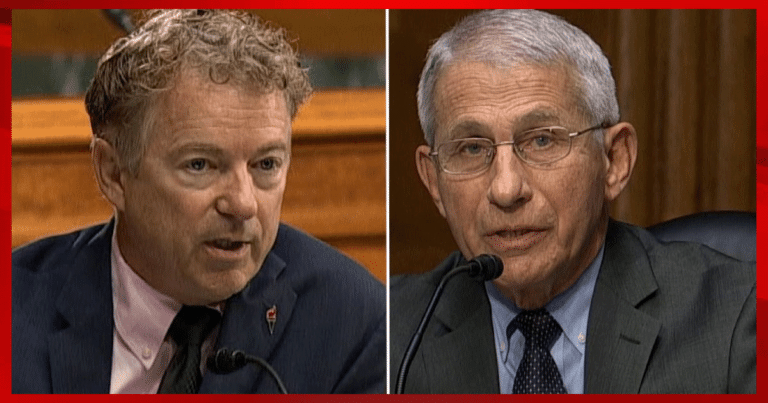 What's Happening:
Republican Sen. Rand Paul has long been critical of lockdown-loving Anthony Fauci. Fauci was the man behind the federal government's disastrous COVID response, which resulted in millions of lost jobs, upended lives, and trillions wasted. Fauci also strongly pushed Americans to get the COVID vaccine, something that Biden used to threaten millions of Americans.
Sen. Paul has accused Fauci of trying to deny his failed leadership during the pandemic. Repeatedly, Paul has pointed out moments when Fauci played fast and loose with the truth. Now, Paul is revealing a damning document from 2020. And he has just dropped a major hammer on the former government flunky.
From Fox News:
Sen. Rand Paul, R-Ky., has announced an "official criminal referral" to the Department of Justice with regard to Dr. Anthony Fauci…

Paul pointed to an email from February 2020 in which Fauci… expressed concern about the "fact upon viewing the sequences of several isolates of the nCoV, there were mutations in the virus that would be most unusual to have evolved naturally in the bats and that there was a suspicion that this mutation was intentionally inserted."

"This directly contradicts everything he said in committee hearing to me, denying absolutely that they funded any gain of function, and it's absolutely a lie. That's why I sent an official criminal referral to the DOJ," Paul wrote on "X," formerly known as Twitter, on Saturday.
Yikes! Sen. Paul has sent a criminal referral to the DOJ, accusing Anthony Fauci of lying to Congress under oath. Fauci repeatedly told Sen. Paul and other lawmakers that there was "no evidence" that COVID came from Wuhan's gain-of-function research.
Fauci asserted that not only were they not conducting such research, but that the U.S. was not funding Wuhan to do that kind of research. But Sen. Paul produced an email from February 2020, in which Fauci consulted with other experts. And they appeared to conclude that a mutation within the COVID virus could not have occurred naturally.
It seems Fauci suspected, way back then, that COVID was the product of experiments at the Wuhan lab.
Yet, Fauci has repeatedly lied about this–even under oath before Congress. Because of this, Sen. Paul wants the DOJ to investigate and perhaps prosecute Fauci.
The former federal official has a reputation for lying and supporting controversial experiments. He admitted to lying to Americans about masks, early on in the pandemic. And other documents have come out to further call his "expert opinion" into question.
Many believe Fauci's "response" made the situation much worse. And, if Paul has his way, Fauci could be in big trouble.
Key Takeaways:
Rand Paul has sent a criminal referral to the DOJ against Anthony Fauci.
The Republican is accusing Fauci of lying under oath before Congress.
An email from February 2020, suggests Fauci believed the virus was altered in a lab, but has denied this repeatedly before the country.
Source: Fox News