After Hillary Clinton Gets 1 Crazy Award – A 5-Word Response to Her Goes Viral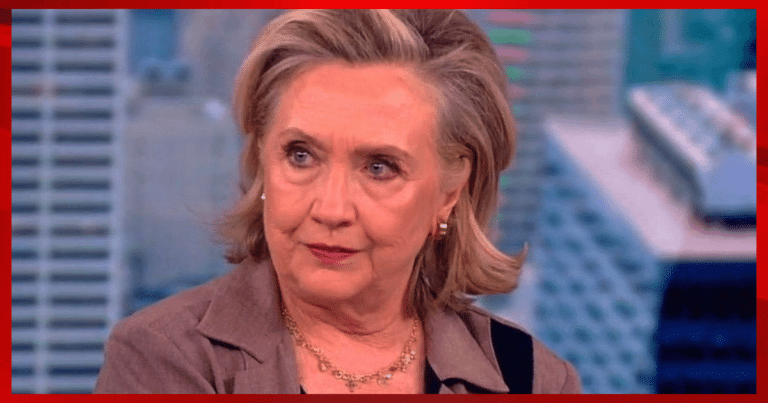 What's Happening:
A few years ago, media pundits speculated on Hillary Clinton's future. Some thought she was gearing up for another presidential run, as she appeared critical of Biden's presidency.
Those claims were quickly dashed, shortly after Special Counsel John Durham came out with accusations against her. But it seems the Democrat establish continues to find ways of rewarding the twice-failed presidential candidate.
This week, she was back at the State Department–where she had previously served under the Obama administration. The current secretary of state was on hand to give this prize to Hillary. But social media users were quick to condemn Clinton.
From Fox News:
Social media users ridiculed former U.S. Secretary of State Hillary Clinton's official State Department portrait unveiling this week.

Several prominent accounts on X mocked the portrait and slammed Clinton over the honor, pointing to the terror attack in Benghazi, Libya, that killed four U.S. diplomats during Clinton's tenure as the head of the State Department…

The account for the Republicans for National Renewal blasted Clinton, posting, "You should be in jail."
The State Department honored former Secretary of State Hillary Clinton with her official State Department portrait. The painting, which would have been paid for by tax dollars, depicts the former Obama official staring off into the distance, an American Flag in the background.
Clinton is not one to miss an opportunity to celebrate herself. To that end, she posted a picture of the painting to her social media accounts. Users quickly responded to the image that essentially celebrates Clinton's time in the State Department.
Critics quickly reminded the former official of the glaring failures that marked her time in the agency. Clinton was largely held responsible for the devastating attack on the U.S. embassy in Benghazi. The former secretary of state received fierce backlash over her slow response, which led to the deaths of American diplomats and U.S. Marines.
Later, she appeared to dismiss the horrible attack by saying, "What does it matter, now?" Many Americans have not forgiven Clinton over this terrible event, only dwarfed by the current State Department's failures in the Afghanistan withdrawal.
It appears that while Biden's State Department is spending tax dollars to honor Clinton, many Americans don't share its opinion of her. They still blame her for one of the darkest moments in recent U.S. history. Some even said she should "be in jail."
Key Takeaway:
The State Department recently unveiled Hillary Clinton's official portrait.
Users online criticized the former secretary of state, reminding her of the Benghazi attack.
Many Americans blame Clinton for the deaths of American diplomats and Marines.
Source: Fox News