Virginia Republican Surges In Election Race – Youngkin Just Closed The Gap On McAuliffe, And Now They're Tied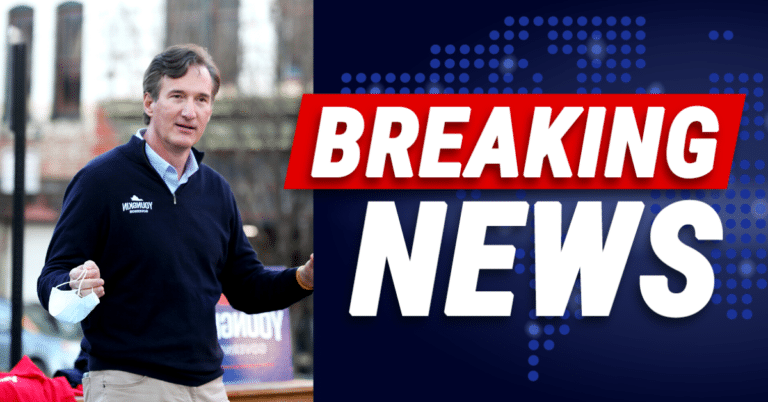 What's Happening:
Many people are closely watching Virginia's governor's race. It should have been an easy victory for former governor and Democrat, Terry McAuliffe. After all, the state's rich, liberal suburbs (close to the D.C. swamp) have turned the once-proud state into a radical, socialist dictatorship.
But something shocking has happened in recent months. Republican newcomer Glenn Youngkin started gaining momentum. He started to rise in the polls, shaking his liberal rival. That led to McAuliffe making several missteps in recent days. Now, a new poll should have Democrats really worried.
From Fox News:
McAuliffe and Youngkin are both at 46% among Virginia registered voters, according to a Monmouth University survey conducted Oct. 16-19 and released on Wednesday.

That's a shift from Monmouth's September and August surveys of the closely watched statewide race with likely national implications, when McAuliffe held 5-point leads.
Just last month, the Democrat candidate for Virginia governor was leading by 5 points. Today, he is in a tie with Republican candidate Glenn Youngkin, according to a Monmouth University poll.
Terry McAuliffe, forming governor of the state, seemed to have the election in the bag just a short while ago. But he has seemingly shot himself in the foot recently. He was caught insulting Biden over a Zoom call, saying he was "unpopular" in the state.
He then had to make it up to the establishment by inviting Biden to speak for his campaign. McAuliffe further upset voters by rebuking parents who have challenged school boards over critical race theory. More recently, he walked out of a local TV interview, ten minutes into the segment.
Meanwhile, Youngkin is enjoying a surge of support among voters, including Republicans fed up with the Democrat majority's iron grip over the state. In recent years, Virginia residents have staged protests and demonstrations against the current liberal governor's harsh policies.
There's no question, this race will come down to the wire. Democrats will pull out all the stops to get their stooge into office. Many will consider this race as a sign of things to come.
Already it has been a victory for conservatives. For a "shoo-in" race to end up so close (according to the polls), shows that even "liberal" Virginia is witnessing a transformation. Will that end up deciding the race? We'll have to find out.
Key Takeaways:
Democrat candidate for Virginia governor is tied with his Republican rival.
McAuliffe lost a five-point lead in just the last month, according to a new poll.
This comes as both Republicans and Democrats closely watch this election.
Source: Fox News