Virginia Election Turns Into Nailbiter – In Latest Poll, Republican Youngkin Just Pulled Ahead Of McAuliffe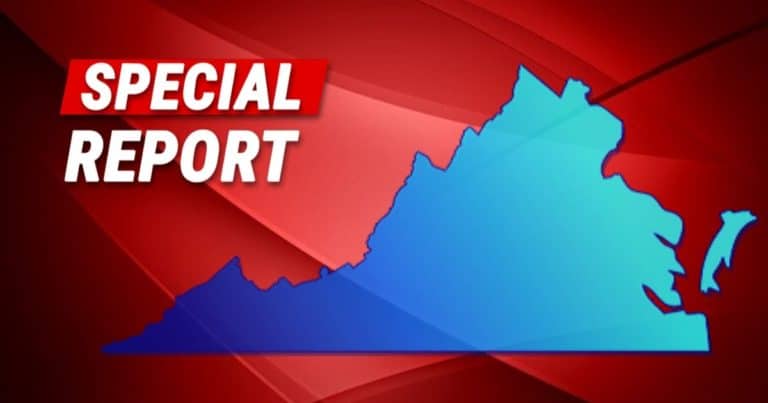 What's Happening:
For years, the D.C. swamp has been in charge of Virginia. The once-proud state of Thomas Jefferson has become increasingly liberal. Today, they have a majority in the state government and push policies that would make San Francisco blush.
But all that might change, depending on an upcoming election.
Democrat Terry McAuliffe appeared to have the governor race in the bag. But up-and-coming Republican Glenn Youngkin has continued to gain headway in this hotly contested election. Now, a new poll just showed the conservative pulling ahead of this Joe Biden ally.
From Twitter:
Youngkin has razor thin lead in #VAGov race:

48.4% @GlennYoungkin,

47.5% @TerryMcAuliffe,

1.3% Third Party/Write-In

2.8% Undecided,

According to @trafalgar_group #poll Conducted 10/11-10-13.
A poll from the Trafalgar Group shows that Republican candidate for VA governor Glenn Youngkin has a slight led over his Democratic rival. According to the poll, Youngkin is at 48.4$ and McAuliffe sits at 47.5%. While very close, it is the first time Youngkin has had a lead in this race.
Just months ago, the Democrat candidate was enjoying a safe margin. But it seems major shifts have been taking place since the start of this election. We do know that much of the state of Virginia are sick and tired of the left's radical policies.
Residents have protested the current administration's strict gun laws and other far-left policies. Large portions of the state are deeply conservative and they are eager to take back the government. McAuliffe himself admitted Joe Biden's failures are hurting his chances.
Despite this, he appears obligated to welcome Biden to campaign for him sometime before the election.
Nobody thought a newcomer like Youngkin would give McAuliffe a run for his money. You better believe the Democrat's campaign is scrambling right now. The race is extremely close and anything can tip the balance.
We'll see what happens, come November.
Key Takeaways:
Republican candidate for VA governor has a close lead over the Democrat.
Glenn Youngkin is at 48.4% to McAuliffe's 47.5%, in a recent poll.
Virginia has a Democrat majority in its state government, which pushes extreme policies.
Source: Twitter