Virginia Dem McAuliffe Makes Major Unforced Error – His Team Sent 'Kill Story' Email Straight To Fox News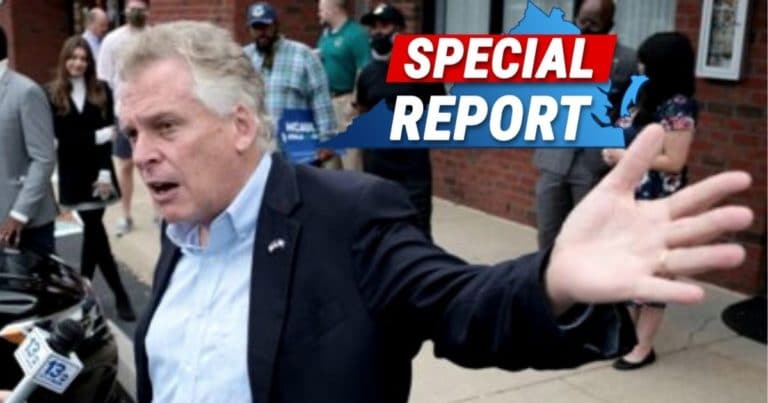 What's Happening:
The Virginia race for governor will go down to the wire. Democrat "frontrunner" Terry McAuliffe is suffering big time, as the most recent polls have him losing to Republican Glenn Youngkin. The Democrat has made many mistakes leading up to the election. This one is particularly embarrassing.
McAuliffe has been battling gaffes and statements he made against Virginia parents. He even criticized Biden and was forced to ask for his help. Last month, they paid a law firm large bucks to handle a problem. When it came to light, they sent an email requesting to "kill" the story. But they sent it to the wrong person.
From Fox News:
Virginia Democratic gubernatorial candidate Terry McAuliffe's campaign raised eyebrows by spending nearly $60,000 to hire a high-profile attorney known for masterminding election-related legal challenges. When Fox News sent the campaign a request for comment, the McAuliffe campaign scrambled to "kill" the story, according to emails mistakenly sent to Fox News.
McAuliffe's campaign apparently paid a lawyer known for handling election legal challenges. The founder of the firm worked for Clinton when she was trying to find dirt on Trump in 2016. This was around the time his former firm concocted the infamous (and false) "dossier."
It's possible McAuliffe was trying to secure their services for a similar scheme. Did he want this firm to find dirt on his Republican rival? Were they working on a fake dossier too? Obviously, they didn't want people knowing they hired this lawyer and his new firm. But when they tried to "kill" the story, they apparently forgot how to use email.
A campaign aid sent, "Can we try to kill this" to a Fox News reporter seeking information. Oops. Played your hand wrong, McAuliffe. It was an embarrassing mistake that makes it look like McAuliffe's campaign was trying to suppress the news.
This comes after he insulted VA parents, his own president, and his party. McAuliffe should have been a shoo-in candidate but is now trailing a Republican newcomer in Fox News' latest poll.
This latest mistake comes at a very bad time and certainly won't help.
Key Takeaways:
McAuliffe's campaign accidentally emailed Fox News to "kill" a story.
The story revolves around their attempts to hire a former Clinton lawyer.
This lawyer worked for Clinton to dig up dirt on Trump in 20216.
Source: Fox News