After Turkey Prices Gobble Up American Paychecks – Media Suggests Americans Should Skip The Turkey, Guests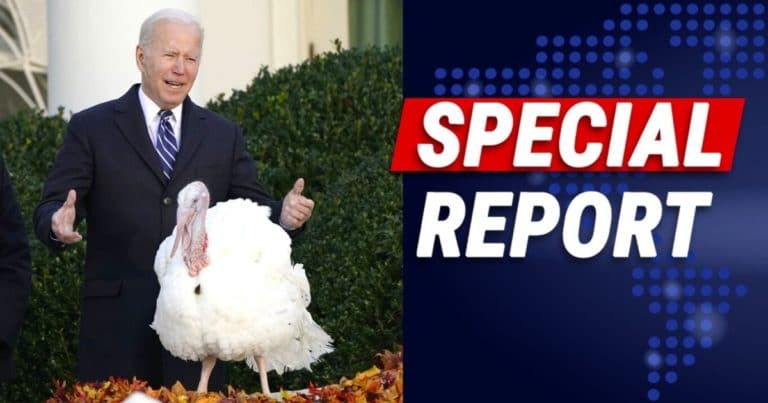 What's Happening:
It's no secret Biden's poor handling of the economy has led to runaway inflation. The cost of everything, from fuel to clothes to electronics is going up. And it is hitting people at the very worst time, just before the holidays. Economists are giving us the bad news, that our Thanksgiving dinners will be costing much more this year around.
But never fear, the media refuses to admit that Biden is failing. Because they have a solution to this problem. Getting rid of Sleepy Joe? Nope! Just don't buy a turkey this year. Problem solved.
From YouTube:
Wow. Just when we thought the media couldn't get worse. A segment from NBC provided "advice" on how Americans can save money this Thanksgiving. Some of their "brilliant" ideas included stocking up on side dishes, having a potluck to share the costs, and just not buying a turkey.
Hey, you selfish Americans! How dare you expect to eat turkey on Thanksgiving! Are you so selfish that you want to enjoy a rich, lovely dinner during the holidays? Why aren't you happy with bologna and cheese??
Isn't it hilarious how the media refuses to admit that Biden is failing? As if this economic crisis is totally out of his control? They ignore the fact that Biden's poor policies have led to massive inflation, a broken supply chain, and millions out of work.
If you don't think it is Biden's fault, think back to 2020. Did you have to worry about getting a turkey back then, when Trump was president? Of course not. This isn't rocket science.
Just think about that this Thanksgiving, when you eat your peanut butter and jelly sandwiches.
Key Takeaways:
Thanksgiving is set to be the most expensive as turkey prices skyrocket.
The MSM is denying Biden's hand in the problem.
One segment urged Americans not to buy a turkey–for Thanksgiving.
Source: YouTube