Trump Rocks the Race in New Report – Since Donald's Indictment, 45's Lead Has Gone Supersonic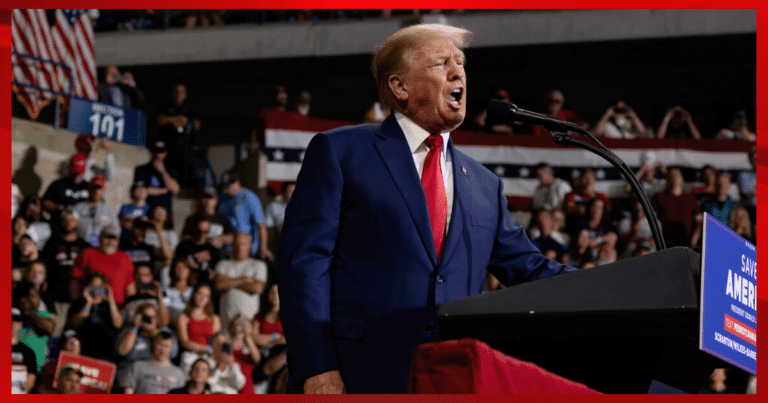 What's Happening:
We're not sure what the Democrats are really trying to do by indicting Trump. Do they really think they are going to send him to jail? They couldn't even put handcuffs on him! Are they hoping this farce will stop Trump from winning the GOP primary? News of the indictment has been spun by every liberal outlet imaginable.
Democrats and media pundits are trying to make Trump look guilty until proven innocent. It really seems as if they want Trump knocked out of the running, so he doesn't even get close to Joe Biden again. But if that is really their plan, they are doing a horrible job of it.
From The Washington Examiner:
Former President Donald Trump's national lead over his nearest rival has surged from an impressive 11 points in January to a gargantuan 33 points despite a wave of bad news for him and President Joe Biden's stepped-up attacks on the MAGA base.
2024 Republican primary polling trends by Morning Consult

January 2:
• Trump — 45% (+11)
• DeSantis — 34%

February 25:
• Trump — 48% (+18)
• DeSantis — 30%

March 14:
• Trump — 52% (+24)
• DeSantis — 28%

APRIL 9:
• Trump — 56% (+33)
• DeSantis — 23% pic.twitter.com/juelBsEx5J

— InteractivePolls (@IAPolls2022) April 11, 2023
Since the Democrats indicted Trump, his support among Republicans has surged. He was leading DeSantis by a very close 11 points just a few months ago. Now, according to one poll, he is beating him by 33 points.
If Democrats were trying to stop Trump from winning the primaries, they should be very upset right about now. The unprecedented attack on the former president hasn't driven Republicans away from him.
It seems most conservatives agree that this is an ugly and unwarranted move by liberals to interfere in the election. And their support for the former president is only growing, now that they realize just how low the left will go to steal our democracy.
But the question remains, how will this shake out in the general election? Are Democrats meddling in the GOP primaries, hoping Trump will be the nominee? It is possible Democrats think a Trump candidacy will lose again to Biden.
That's a huge gamble, based on what we're seeing. If Republicans are surging in their support for Trump, independents won't be close behind. If Democrats continue this unjust witch hunt, they only stand to alienate more voters from their party.
This surge could carry Trump all the way back into the White House.
Key Takeaways:
Trump's support is surging among Republicans, post-indictment.
He is leading his closest rival by a large, 33-point lead.
Most voters believe Democrats indicted Trump to interfere in the election.
Source: The Washington Examiner