Days After Trump's Home Gets Raided by FBI – Hunter Biden Jumps on Air Force One for Vacation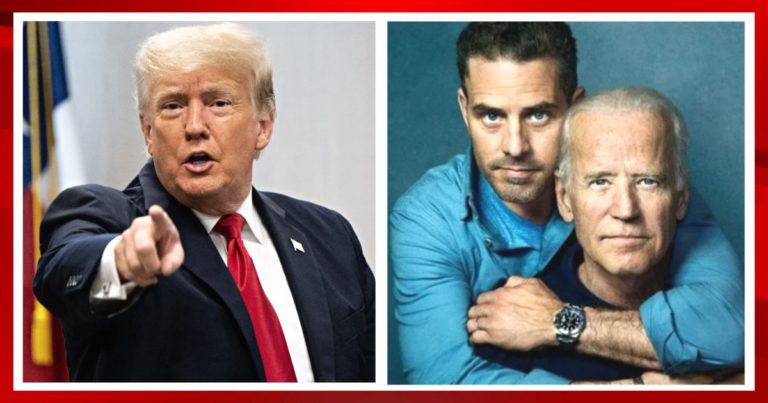 What's Happening:
Just a few days ago, the FBI raided the home of 45th President Donald Trump over alleged paperwork kept at his house.
This has shocked and outraged Americans. Many are asking a big question: what about Hunter Biden?
He is apparently being investigated by the same DOJ—but no raids of his home. In fact, there he is, jetting off on Air Force One to vacation with daddy.
From Fox News:
Hunter Biden joined his dad on an Air Force One flight to South Carolina Wednesday for a family vacation amid criticism of the FBI's alleged double standards after agents raided former President Trump's Mar-a-Lago residence in Florida…

The younger Biden was photographed with his wife, Melissa Cohen, and his son, Beau, meeting President Biden at Joint Base Andrews in Maryland. The Biden then flew to Kiawah Island, South Carolina for a vacation.
Unbelievable. Hunter Biden has been implicated in a variety of circumstances. There is literally evidence to suggest he used Joe Biden's cash to pay for hookers.
Yet the FBI—despite claiming they are investigating him—has never raided his home or office.
In fact, the man gets special treatment, flying on Air Force One with Joe the grandkids to go on Summer vacation.
Are you serious? And the left wonders why Americans believe there is a double standard of justice in this country.
Time and again we see evidence to suggest that, if you're a Democrat, you can get away with anything.
But if you are right of center, even a former president, you get the book thrown at you.
Just ask the many Americans who are sitting in prison right now, denied bail, over their foolish actions on January 6.
(Meanwhile, blue cities have eliminated bail for hardened criminals.)
Whatever the left is accusing Trump of it doesn't come near the virtual mountain of allegations we've seen against Hunter Biden.
The man could have committed numerous serious crimes—crimes that should have landed him in prison.
Instead, he gets treated to the high life.
Key Takeaways:
Hunter Biden was seen flying on Air Force One, days after the FBI raid on Trump.
Critics slammed Hunter's special privilege, despite being under FBI investigation.
Hunter has been accused of a long list of crimes but has not been raided by the FBI.
Source: Fox News