Trump Goes Head-to-Head with DeSantis – But There May Be a Hollywood Dark Horse Waiting in the Wings: The Rock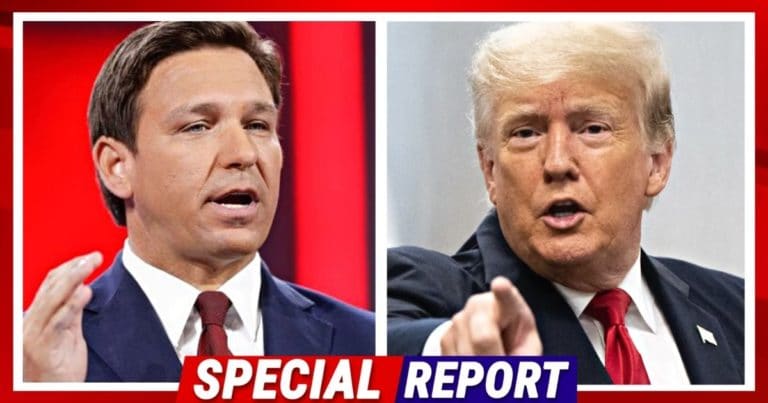 What's Happening:
Although the 2024 Election is still two years away (and nobody's announced their candidacy yet), people can't help speculating on who might win. It's safe to say Joe Biden is in no way part of the conversation.
Many wonder who within the GOP can win the nomination. Many are waiting for Trump to come back. Others are wondering if conservative rock star, Ron DeSantis, will jump into the ring.
If he does, this might happen.
From Rasmussen Reports:
The latest Rasmussen Reports national telephone and online survey finds that 40% of Likely U.S. Voters believe Trump would win if both he and DeSantis sought the 2024 Republican nomination. Twenty-two percent (22%) think DeSantis would win, while 23% believe neither Trump nor DeSantis would win the 2024 nomination.
Trump continues to beat out DeSantis, who according to polling is his closest rival. But one commentator thinks a Hollywood dark horse might give Trump a headache.
From Mediaite:
"[Gov. Ron] DeSantis [R-FL] could give him a run for his money. [Sen.] Tim Scott [R-SC] can give him a run for his money. Dwayne "The Rock" Johnson could give him a run for his money," Mulvaney said.
A recent poll reveals that 40% of Republicans believe Donald Trump would win a primary race against Florida Gov. DeSantis. Only 22% think the popular governor would win.
This is consistent with polling we've seen over the last year. Despite DeSantis' remarkable success in Florida, most conservatives believe Trump should return for one more term.
Former Trump chief of staff and turncoat, Mick Mulvaney, is throwing out another possibility. He recently claimed that Hollywood actor, Dwayne Johnson, could be a strong contender.
The Rock is a popular celebrity, who is known for his patriotism and support for the troops. But his political affiliation is unknown. Chances are, it is unlikely he'd run as a Republican.
We have to keep in mind that Mulvaney turned on Trump to save his own skin. He helped Democrats during their first impeachment, accusing Trump of unprovable crimes.
He gave in to the swamp, in a pathetic attempt to mischaracterize the president. Now, he might be talking out of the side of his mouth, just for a stab at relevance.
But if the Rock does run, he'd make one hell of a vice president.
Key Takeaways:
Trump beat DeSantis in another poll for the 2024 primary.
Florida governor is a top candidate, according to polling.
Former Trump staffer claimed The Rock could beat Trump.
Source: Rasmussen Reports, Mediaite