Trump Faces Off With George W. Bush – They're About To Have A Texas-Sized Collision Over Cheney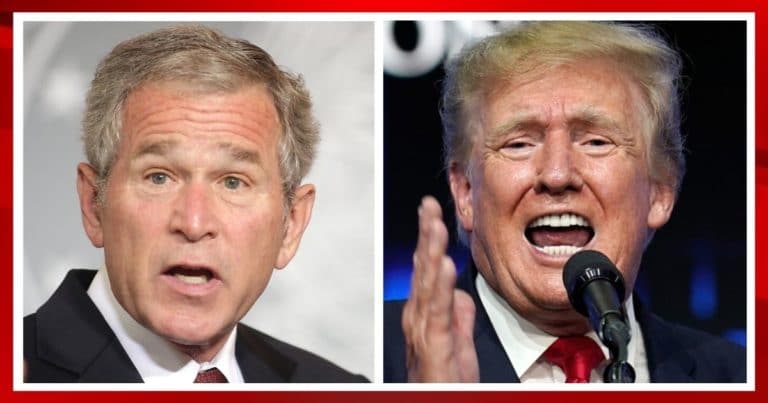 What's Happening:
It's safe to say that RINOs will be having a hard time in next year's election. Especially those fake Republicans who voted against Trump during the left's bogus impeachment. And top on the list is Wyoming's Liz Cheney.
The establishment swamp dweller continues to bash Trump and the millions of conservatives who support him. Even her party back home rejected her, as do many Republican voters. She is facing a tough re-election race, with a new candidate fighting for her nomination.
And now, one of the biggest RINOs and false Republicans will be facing off against Donald Trump.
From The Wall Street Journal:
Former President George W. Bush's first campaign event of the 2022 midterms will be a fundraiser to support Rep. Liz Cheney, the Wyoming Republican who is among former President Donald Trump's top targets to unseat. The fundraiser will be held next month in Dallas, according to a copy of an invitation viewed by The Wall Street Journal.
Now, this is very interesting. And hilarious. Liz Cheney is facing a near-impossible re-election after turning against Donald Trump. Her state's GOP has rebuked her as many voters expressed outrage against her. Trump himself is backing her primary rival.
So, who is Liz turning to for salvation? George W. Bush!
Wow, big swing and a miss, Liz.
Bush was once a man loved and supported by Republicans. Conservative Americans went to bat for the guy, even as the liberal establishment and MSM were merciless. We fought for him for eight long years.
But how did he repay us? By bowing to the very swamp we defending him against. These days, Bush is more likely to be seen among the Obamas and the liberal elite, than conservatives. He even compared conservative Americans to terrorists on the 20th anniversary of 9/11.
If Liz Cheney thinks this man is going to save her bacon, she is dreaming. Perhaps the last person a Republican should ask for help these days is turncoat Bush.
Meanwhile, Wyoming voters (who, by the way, picked Trump in 2020), will rally around the candidate Trump is supporting, Harriet Hageman. With his endorsement and backing, she is sure to win.
Key Takeaways:
Liz Cheney is getting the aid of George W. Bush for her re-election campaign.
Bush will be hosting a fundraiser and campaign event for the embattled representative.
Cheney turned on the GOP after voting against Donald Trump.
Source: WSJ