Donald's New 'Trump Force One' Has Major Change – Millions of Heads Are Turning Over Replacing T With a Flag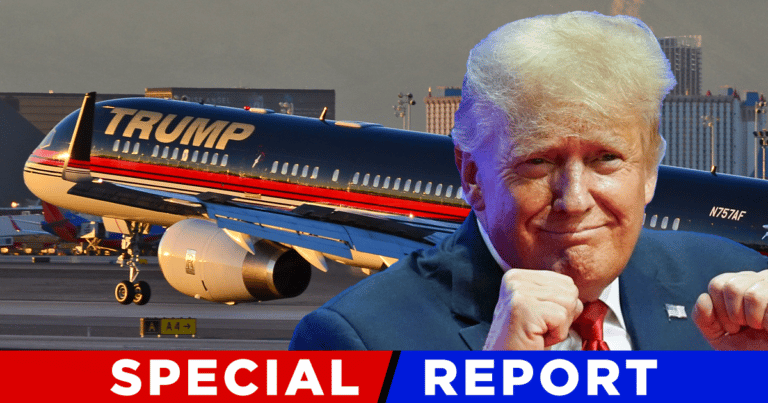 What's Happening:
During the 2016 Election, Donald Trump traveled across America in a Boeing 757 known as "Trump First One." This iconic airplane became a fixture of his rallies and events. But when he was elected, but put the plane in storage and flew on the presidential Air Force Once.
Over the last year or so, Trump has talked about getting the old girl out of storage. The plane has undergone numerous upgrades, including modernization and possibly new jet engines. Trump Force One has also received a stunning new paint job. And one particular detail might be revealing what might come next for the Donald.
From The Western Journal:
The aircraft known as "Trump Force One" has returned to the skies.

Former President Donald Trump's personal Boeing 757 aircraft was spotted landing in West Palm Beach, Florida, on Wednesday, according to CNN.

The jet had been undergoing renovations at a Louisiana aircraft maintenance facility…

A "T" for "Trump" on the tail of the plane has been replaced with an American flag, a possible indication of the aircraft's use in an upcoming comeback presidential campaign.
Trump's iconic 757 underwent renovations and improvements. Included among the upgrades was a brand-new paint job. The plane sports a dramatic, dark blue coat with Trump's name in bold gold.
Previously, the tail of the plane had a dynamic "T" motif, obviously for "Trump." But after the new paint job, Trump has replaced the "T" with a majestic American Flag. Some have speculated this is a sign of what Trump will use this plane for.
If Trump was simply going to return to private life and business, maybe he would have kept the T. But perhaps the addition of the American Flag suggests he will be using this plane for campaign events. Perhaps for a 2024 run?
Many have seen speculating on Trump's 2024 plans. There are currently few names that are rivaling a Trump comeback.  It could be that if Trump runs again, he will easily secure the nomination. But despite many hints and speeches, Trump has yet to announce officially that he is running again.
Regardless, millions of Americans will be excited to see Trump embark once again on Trump Force Once.
Key Takeaways:
The newly-renovated Trump Force One was spotted flying from Louisiana to Florida.
The plane was upgraded with new features and a new paint job.
The "T" on the tail of the plane was replaced with an American Flag.
Source: The Western Journal