Trump Dishes on the Closed-Door Courtroom – Donald Compares It to Disgraceful 'Old Soviet Union' Tactics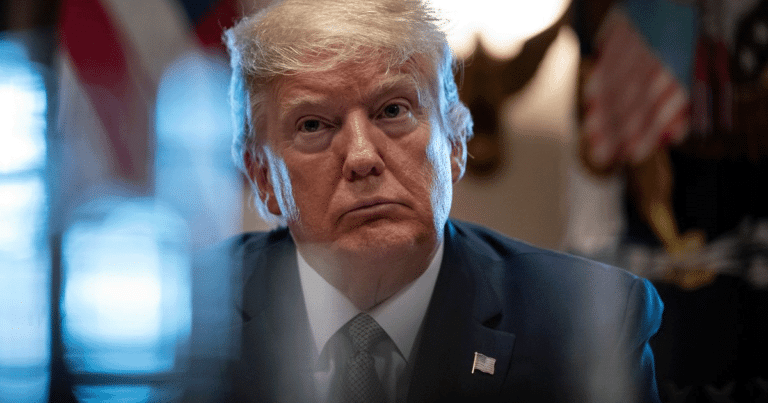 What's Happening:
You'll be hard-pressed not to find someone who believes this Trump indictment is nothing but a scam. A Democrat DA is leading the effort, a man who long accused Trump of crimes–before any investigation was open. Most Americans believe this is one of many attempts by the left to discourage Trump's election chances.
But now, Trump is revealing what went on during his arraignment.
The former president is facing numerous charges. Many legal experts believe these charges are not felony offenses. A reasonable judge would throw this case out. But the liberal-leaning populace of New York might not see it that way. And Trump is exposing what's really going on.
From Breitbart:
"I think people see it for what it is: It's a scam. They're willing to do that. That's destroying our country, that kind of stuff. That's old Soviet Union kind of tactics what they would do. I think it's a disgrace they are allowed to do it." […]

Trump added, too, that it is his belief that Democrat President Joe Biden is behind the entire thing—and that the White House is running everything. Trump pointed to the fact that Bragg's office onboarded former senior Department of Justice (DOJ) official Matthew Colangelo late last year—someone who has spent years targeting Trump in his role at the DOJ and previously in his role in the New York Attorney General's office.
Wow. Trump has most likely been encouraged by his legal team to refrain from discussing much of what is going on in the trial. But he revealed what it was like in the closed courtroom arrangement. He described the DA's efforts to take him down as "old Soviet Union" style tactics.
In the Soviet era, government officials in Russia would use the power of the government to oppose and crush their political rivals. And Trump believes Democrats are doing that to him, today. And he even revealed he believes Biden himself is behind it.
Bragg employed a former senior DOJ official last year, someone who worked for Biden and has openly targeted Trump. It's hard to ignore the fact that Democrats are running this case, during the election. How could Biden not be involved?
Remember, Democrats accused Trump of trying to take down his political rival in 2019, over a phone call. Yet today, Democrats are going after Biden's top rival with a sham trial that most experts say isn't valid. And we're not supposed to think Biden is pulling a Soviet-era stunt to protect his regime?
Key Takeaways:
Trump called the trial against him "old Soviet Union" style tactics.
He accused Joe Biden of being behind the Democrat-led case against him.
Most Americans believe the trial is politically motivated.
Source: Breitbart