Squad Member Tlaib's Closet Swings Open – After Pushing to Cancel Rent, She Makes $100K in Rental Income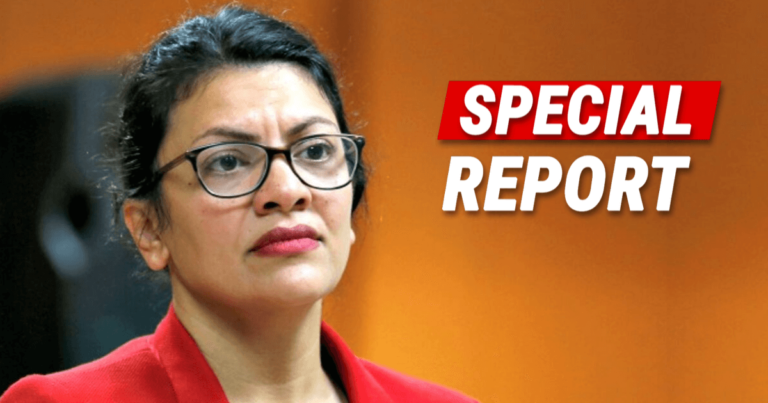 What's Happening:
You know, for so-called "socialists," the House squad really loves money! One of them, Rep. Rashida Tlaib, made a big deal about canceling rent during the pandemic.
She tried to pass a bill that would have denied landlords rental income. Yet, at the same time, she brought in $100,000… from rental income.
From Fox News:
Rep. Rashida Tlaib, D-Mich., has pocketed up to $100,000 in rental income during the pandemic despite pushing to cancel rent…

Tlaib filed her latest annual financial disclosure report Thursday, which reveals she collected between $15,001 and $50,000 in rental income from a Detroit property in 2021. The Michigan Democrat reported the same rental income for 2020 last August, meaning she now made between $30,000 and $100,000 from rent payments during the pandemic.
Here's something to get your blood boiling. Many progressives pushed for "rent cancelation" during the lockdowns.
In fact, in liberal states, some people still can't collect rent thanks to Democrat policies.
In the House, squad-member Rashida Tlaib championed a bill that would have made rental cancelation the law nationwide.
Such a move would have ruined millions of Americans. While Tlaib and other socialists claim landlords are "evil" rich people, the reality is many of them are just homeowners.
They need that rental income to pay their mortgages or even pay bills. Some are companies that use rental income to pay employee salaries.
Tlaib and her allies don't bother to think of that. Yet, even though she was pushing to cancel rent, she was pulling in nearly $100,000 a year from tenants.
Would she have allowed her tenants to stop paying rent if that bill was passed? Something tells me no way.
Tlaib was willing to doom the livelihoods of many Americans, while not suffering a bit.
Sound familiar? Numerous Democrats enjoyed the high life during 2020 when so many of us couldn't even leave our houses.
Children couldn't go to school. The faithful couldn't go to church. Countless life events, milestones, and graduations were spoiled.
But Democrats got to go to gala events, fancy restaurants, and even vacations. Tlaib got a little bit richer, while the rest of us got much poorer.
Key Takeaways:
Rashida Tlaib made $100,000 from rental properties while pushing for rent cancelation.
The so-called socialist backed a bill that would have banned landlords from collecting rent.
Source: Fox News