Tim Tebow and DeSantis Wife Join Forces – They Just Went on a 1-Night Florida Faith Crusade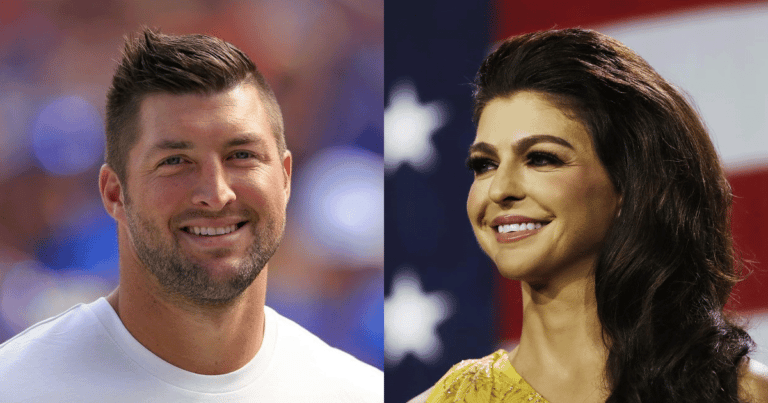 What's Happening:
Plenty has been said about the incredible work Gov. Ron DeSantis is doing in Florida. Thanks to his success, he was re-elected last fall in a landslide. But he's not the only DeSantis doing amazing things for Americans.
Casey DeSantis, a breast cancer survivor, has gone above and beyond to help people in need. She helped raise millions of dollars in the recovery effect after Hurricane Ian. And now, she has joined with iconic athlete Tim Tebow in a night devoted to sharing God's love with special needs teens.
From The Western Journal:
The first lady of Florida just teamed up with a football legend to act upon the Gospel message of love and provide a special experience for young people with special needs.

Casey DeSantis, the wife of Gov. Ron DeSantis, lent her support to participants in Tim Tebow's "Night to Shine" event on Friday…

"Night to Shine," first held in 2015, offers an "unforgettable prom night experience, centered on God's love, for people with special needs, ages 14 and older," Tebow's foundation says on its website.
It was an honor to host 5 beautiful ladies at the Governor's Mansion as they got ready for @TimTebow's worldwide Night to Shine 2023.

We hope you had the best night, you certainly brightened ours! pic.twitter.com/BgfbtcOsDN

— Casey DeSantis (@CaseyDeSantis) February 14, 2023
Tim Tebow, former NFL player and outspoken Christian, hosts a yearly event for special needs students. "Night to Shine" gives special needs teenagers a chance to have a "prom night experience." And Casey DeSantis participated in the event by hosting several of the young ladies at the governor's mansion.
She greeted the guests and sent them off to have a memorable celebration with other attendees. The event is hosted by churches all around the world. It is focused on sharing Christ's love with the special needs community.
Without this event, many young people would be deprived of going to the prom. That might not sound like a big deal for some, but even one special night could have a significant influence on these young people.
It is a time when they get to dress up, go to a special event, and are celebrated by friends and family.
600+ host Churches. 46 countries. Tens of thousands of Kings & Queens. ONE incredible Night to Shine. pic.twitter.com/GFWW6E4SX8

— Tim Tebow (@TimTebow) February 11, 2023
Often, special needs students feel neglected. They are left out of special events like this because they are overlooked by other students or don't attend public school. Thanks to Tebow and DeSantis, though, these special young people get to have a wonderful night.
Key Takeaways:
Casey DeSantis participated in Tim Tebow's "Night to Shine."
The event provides a "prom night experience" for special needs students.
The First Lady of Florida hosted several girls at the governor's mansion before they attended the event.
Source: The Western Journal