Thanksgiving Report Rocks Every American – There's "No Way" to Escape the Skyrocketing Cost of a Turkey Dinner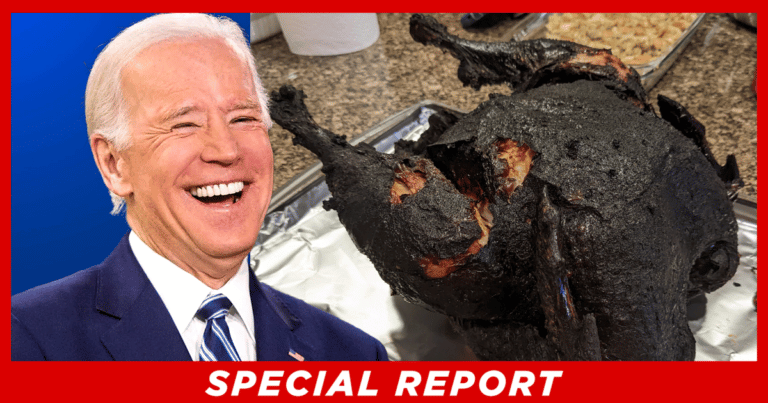 What's Happening:
Joe Biden recently claimed the U.S. economy is in "good shape." This is consistent with his other claims that he is building a "better" America. Again and again, Biden and his bankrupt administration ignore the obvious signs of inflation and a recession.
Biden can deny reality all he wants. That isn't stopping prices for basics from skyrocketing. It's particularly painful this week, as Americans come together to celebrate a major holiday. And even reporters are admitting that there is "no way" to escape Biden's massive price hike for food.
From Fox 59:
The Indiana Farm Bureau conducted its annual Thanksgiving survey and found prices have gone up by 14 percent.

The biggest increase was on the bread for stuffing which rose by 63 percent. Whipping cream costs nearly 29 percent more than the year before as does pumpkin pie filling which is up by more than 20 percent.

The all important turkey saw its cost go up by 11 percent year-over-year.
Yikes. Peter Doocy declared there is "no way" Americans can escape the painfully high prices for this year's Thanksgiving meal. According to the national average, a 16lb turkey will cost nearly $30. That's a 21% jump from last year.
Everything from bread to eggs to whipped cream is more expensive. A time when Americans should be able to come together, put aside the chaos of the news, and just enjoy a meal has been ruined thanks to Joe Biden's stupidity.
He is largely to blame for this disaster. Even during the height of COVID prices weren't this bad. But Biden's lack of leadership and intelligence has led to runaway inflation, high gas prices, and a still crippled supply chain.
The very worst part about all of this is that Biden doesn't even care. He is blatantly lying about the economy, as prices soar across the board. How can an administration be this clueless and callous? Does Biden even care about Americans?
Not from what we've seen. He just licks his damn ice cream cone and pretends like everything's fine.
If he was Mussolini, well… we'd know what we'd do to him.
Key Takeaways:
Joe Biden recently claimed America's economy was in "good shape."
This year's Thanksgiving will be on average 11% more expensive than last year.
Turkeys have seen a massive 21% jump in price from 2021.
Biden continues to ignore inflation and growing recession signs.