Texas Republicans Launch Sweeping New Border Plan – The Lone Star Claims It Will Be Built "By Texans, For Texans"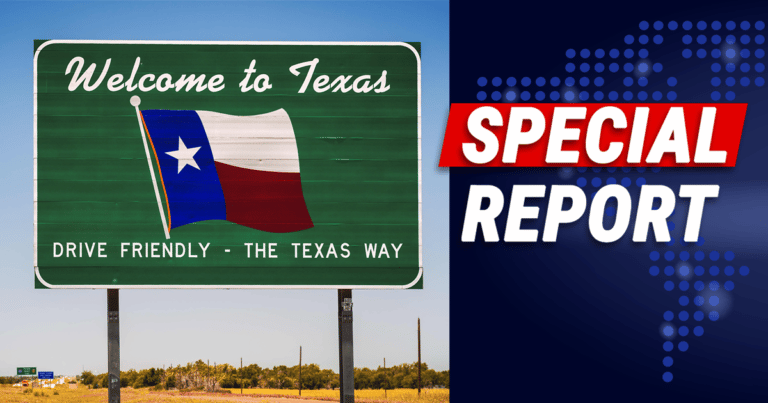 What's Happening:
Joe Biden has dismissed the border crisis as "not important." But we know that his administration is doing everything in its power to make the situation worse. DHS and Border Patrol are forced to process migrants, welcoming them in instead of deporting them.
Meanwhile, countless invaders are trampling over border states, putting millions of Americans in jeopardy. And the Lone Star State is done waiting for D.C. to do anything about it. With the new state legislature about to take over, they are releasing a major new plan to secure the border.
From Fox News:
Texas Republican lawmakers on Thursday unveiled a sweeping border security framework specifically catered to the needs of their state — which has been on the frontlines of the border crisis.

The Lone Star State Republican House delegation unveiled their border framework written "by Texans for Texans"…

The first is a commitment to completing infrastructure at the border — including finishing the Trump-era border wall, which has largely stalled under the Biden administration. They also want to aid Border Patrol recruitment and install 700 miles of roads along the border, while reimbursing Texas for border security expenses.
Republican Texas lawmakers unveiled their "By Texans, For Texans" border plan. With Biden refusing to do anything about the crisis, the Texas state government will be implementing a plan to end the tide of invasion.
Previously, Gov. Abbott declared the border crisis an invasion–and this appears to be the next big step in securing the border. This plan will include many steps to prevent illegal immigration into the state.
That includes finishing the border wall. Texas will also help recruit more officers for Border Patrol. On top of that, they will build 700 miles of roads along the border, which will aid law enforcement in patrolling those vulnerable areas.
This is a big move that will surely attract opposition from the Biden administration. Expect lawsuits and other attempts by Democrats to stop this plan. But it appears Texas is going to work fast to get this done, even if they get dragged into court.
Biden has been doing enough to hurt Americans. And now, Texans are going to set it right.
Key Takeaways:
Texas lawmakers unveiled a plan to secure the border, as the crisis rages.
The plan will finish the wall, add more officers, and provide more resources.
This comes as Biden's administration makes it easier for aliens to illegally enter the country.
Source: Fox News