Ted Cruz Pulls Back Curtain On The Biden/Harris Border – In Person, He Shows Video Of The Growing Problem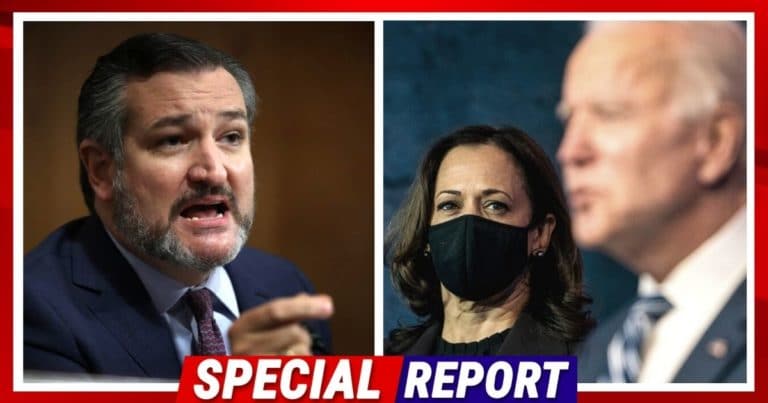 What's Happening:
Fox News recently revealed that over 8,000 migrants are living under a bridge at the border. These aliens are here because they expect Joe Biden to capture them and release them into the country.
Clearly, the border crisis created by Joe Biden is only getting worse.
Biden has taken steps, not to fix the problem, but to block more footage from getting out. He's banned drones from flying over the region, in a pathetic attempt to save his face. But Sen. Ted Cruz already has his number.
Because he went to the border in person, revealing the shocking crisis in stark colors.
From Daily Wire:
Sen. Ted Cruz (R-TX) released a video on Thursday afternoon from his trip to Del Rio, Texas, where he observed what he said was more than 10,000 illegal aliens that had been apprehended by the U.S. Border Patrol…

"Just over a week ago, there were fewer than a thousand people here under the bridge, averaging between 700 and 1000. Then, on September 8th, the Biden administration made a decision to cancel deportation flights back to Haiti. The vast majority of these illegal immigrants crossing into Del Rio are from Haiti."
Here is video showing Cruz exposing this travesty to America:
10,503 illegal aliens are under this bridge tonight because Joe Biden made a political decision to cancel deportation flights to Haiti.

The Border Patrol is overcapacity. It's indefensible, it's inhuman, and it was entirely caused by Biden & Harris. #BidenBorderCrisis pic.twitter.com/LmWV52nmJc

— Ted Cruz (@tedcruz) September 17, 2021
Ted Cruz exposed Joe Biden's decision that led to a massive crisis along the U.S. border. He reported that 10,000 Haitian migrants are living under a bridge, demanding entry to the country.
The number exploded from a few hundred to thousands, after Biden canceled deportation flights back to their home country. Cruz blasted the "president" by saying he could end this "tomorrow" by simply "following the law."
But we know that without pressure from Congress, Joe will do nothing. He created the border crisis by ending Trump's immigration policies. He deliberately invited millions of migrants to bombard our border. And as the situation only gets worse, Biden pretends like it isn't happening.
Many have claimed he wants this crisis to get worse. Republicans accuse Democrats of welcoming non-citizens to come here illegally because they need their votes to win elections.
Regardless of the reason, Biden is sitting on his hands. He does not seem to care that thousands of migrants are living in squalor, with little children close to death. Cruz exposed the depths of Biden's failures, in footage that cannot be ignored.
But unless the American people demand action, nothing will be done.
Key Takeaways:
Ted Cruz exposed the thousands of migrants living under a bridge, blaming Biden.
Cruz said Biden canceled deportation flights back to Haiti, triggering this mess.
This comes as Biden's allowed hundreds of thousands to bombard our border this year.
Source: Daily Wire