'Slippin' Biden' Exposed by D.C. Insider Report – The President Can Only Work a Maximum of 6 Hours Per Day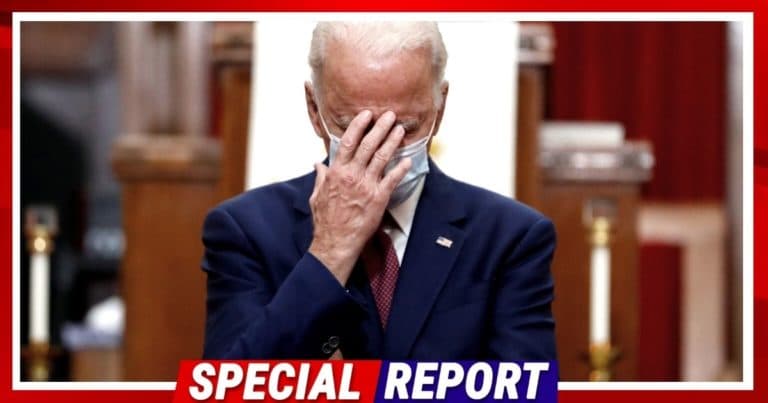 What's Happening:
You and I both know that Joe Biden is unfit for office. But it seems that the situation is much worse than we thought. For a while now, we've heard about how Joe's handlers are carefully controlling his public appearances. Obviously, the man can't speak for himself without making gaffes.
But they are doing much more than that.
A president has one heck of a schedule. From morning to night, he has a relentless pace of meetings, discussions, and endless decisions. It requires a man of strength and stamina, as well as a keen mind. We know Biden doesn't have any of this. But we didn't think it was this bad.
From Daily Wire:
On Friday, Axios reported that the Biden White House has a hard time planning any public and private events before midmorning and in the evening for the 46th president given his age and lack of energy. This, of course, comes as no surprise to most Americans who witness his diminished stamina and mental acuity on a near-daily basis.
Unbelievable. According to a new report, Biden's staff only plan events for him from 10 to 4 pm, on weekdays. Before and after that window, he's useless. He can't even do a drop of work during the weekends.
We knew for a long time that the "president" goes to bed at a shockingly early 7 pm. That is early, even for an 80-year-old. Now, we know that he can't handle a normal work schedule of an entry-level office worker.
He can't even do 9 to 5! Yet we are told he is up for a second term? Based on these numbers, he won't even finish a full first term! When you are skipping out on this much of your job, do you deserve to keep it?
This is beyond pathetic. It is insulting to every hard-working America who at least expected Biden to be hard at his job. Instead, he is carefully coddled like a baby–because he is too old and tired to work beyond 4 pm.
Why are Democrats keeping up this charade? Biden is too old and too frail to be president. Period. If this were any other time in U.S. history, Congress would have already moved to get rid of him. But Democrats can't give any ground to Republicans; they are so bitter they won't even admit they elected a vegetable.
Key Takeaways:
A new report reveals Biden's shockingly light daily schedule.
Biden works only from 10 to 4 pm; outside those hours he is too weak and tired.
The report also revealed Biden does not work on the weekends, unlike previous presidents.
Source: Daily Wire