Senator Hawley Unveils Powerful Immigration Bill – It Gives States the Power to Deport Undocumented Migrants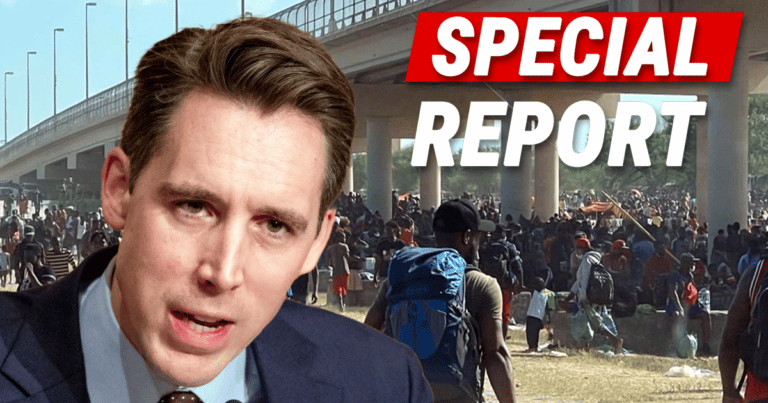 What's Happening:
It's no secret border states have their hands tied over Biden's crisis.
Texas and Arizona are getting the brunt of the over 5 million migrants who have entered our country. But they can't do anything about it, because federal law prevents them from deporting aliens.
But Republican Sen. Josh Hawley is trying to change all that.
From Fox News:
Legislation being introduced by Sen. Josh Hawley, R-Mo., on Tuesday would allow states to enforce federal immigration law, including the deportation of illegal immigrants – as Hawley calls for the U.S. to "take the gloves off" to fight unlawful immigration…

The bill would effectively abrogate a 2012 Supreme Court case which significantly limited the ability for states to be involved in immigration enforcement. Instead, the bill would allow states to use their resources for immigration enforcement.
If Hawley gets his way, states will be authorized to enforce federal immigration law.
Specifically, they will have the power to deport migrants who crossed the border illegally.
The reason states like Texas can't do that right now, is because of a 2012 Supreme Court ruling.
As it stands, only federal agencies have the power to remove a person from the country.
That is a very big problem when the "president" refuses to enforce immigration laws. Biden's DHS does not deport aliens, even those who pose a threat to Americans.
This policy has encouraged over 5 million aliens to jump the border. It has turned border towns into virtual warzones.
American lives are at stake, but state officials can do very little.
When the crisis first erupted, Gov. Greg Abbott of Texas petitioned the White House for help.
Of course, Biden and Harris ignored him.
The governor has been forced to come up with creative measures to discourage illegal immigration.
But all of those are delays. Without the power to deport illegal aliens, the states cannot fix this problem.
Key Takeaways:
Hawley introduced a bill that will allow states to deport illegal aliens.
A 2012 Supreme Court decision prevented states from protecting the border.
Joe Biden has refused to enforce our immigration laws, leading to chaos.
Source: Fox News