Rogan Exposes Biden's '54 Million from China' – Biden Penn Center with Classified Docs Raked in Money from Communists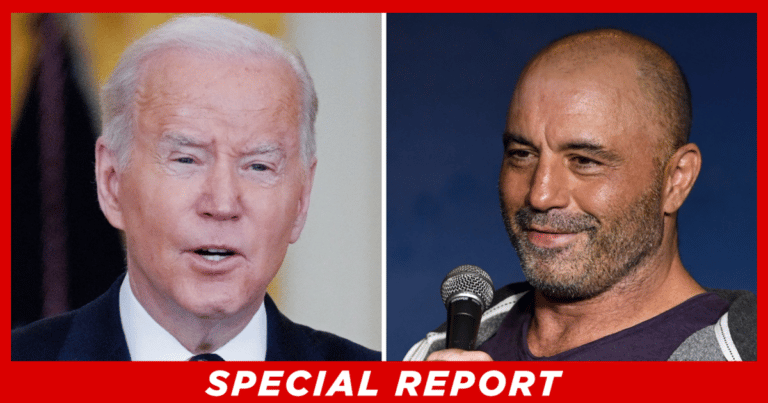 What's Happening:
Joe Biden is trying his best to avoid collateral damage from this document scandal. The White House is trying to downplay it. The press secretary has no comment, as usual. But this problem is not going away. And more and more Americans are learning just how bad this situation really is.
Celebrity podcaster Joe Rogan is even weighing in on the scandal. The famed comedian has millions of followers, from across the political spectrum. And the host is raising the alarm on one part of the scandal that the media is trying to bury: the possibility that China spent millions to gain access to America's secrets.
For Daily Wire:
"So the Chinese might be funding a think tank that has classified documents?" Rogan said. "$54 million in Chinese gifts donated to UPenn, home of the Biden center. What the f***, man? […]

"What's crazy is that the documents being there are the big story not that China gave them 50 plus million dollars," Rogan said. "That's a big g*****n story. And that seems to be par for the course right?"
Joe Rogan sounded the alarm that China donated $54 million in gifts to UPenn, while Biden's think tank was employed there. At the same time, Biden's office at the school was improperly housing classified documents. Does anyone else see the connection? Because Rogan does.
The podcaster worried that China was paying for access to classified documents. They could have gotten their hands on all kinds of secrets, the kinds of secrets spies would kill for. But Joe could have been just handing them over, because he was getting millions from the communists.
And if that's the case, why should we believe it ended there? Biden's in the White House, now. And he's surprisingly soft on China, even as the communist regime oppresses its own people, threatened our ally Taiwan, and refuses to be held accountable for COVID.
What is China paying Biden now? How many secrets is China downloading daily, care of the Biden administration? Hell, why hasn't Biden banned TikTok–an app we all know is used by China to spy on Americans?
Democrats might dismiss Joe Rogan. But he's smarter than most of them combined. He's not so foolish as to believe nothing shady was going on at UPenn. And most of us should worry that it's still going on, in the White House, today.
Key Takeaways:
Joe Rogan sounded the alarm over China's connection to Biden's document scandal.
China was paying UPenn $54 million while Biden kept classified documents at the school.
Rogan and others worry that Biden was providing classified documents to China in exchange for these gifts.
Source: Daily Wire