Quid Pro Joe Strikes Again – Just Days After Biden Gives in To Saudis, Report Claims Oil Production About to Jump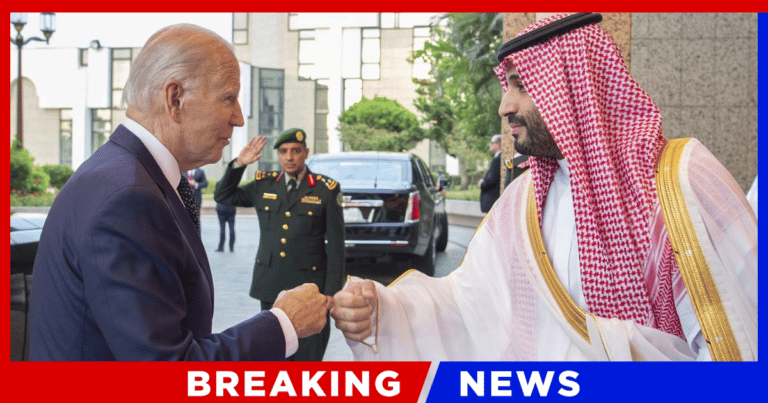 What's Happening:
Joe Biden is largely responsible for the many crises that have hit our country over the last two years. But none is as bad as what he's done to the economy–including our high gas prices. Biden shut down American drilling, forcing us to buy oil from foreign countries.
(Making them much richer, in the process.)
Biden was desperate, before the midterms, to lowering gas prices. But instead of opening up U.S. drilling, he begged Saudi Arabia to pump more themselves. The nation refused. Biden even claimed he was going to get tough with them, back in October.
From CNBC:
President Joe Biden is angry at Saudi Arabia for its decision to slash oil production along with its OPEC allies against U.S. wishes, and he's made no secret of it…

Biden said in an interview with CNN on Tuesday that there would be "consequences."
I guess those "consequences" included the U.S. cowering to the Arab nation, giving them what they want while betraying our own integrity. Because the Saudis are ramping up production, in exchange for protection over a heinous crime.
From The Post Millennial:
Saudi Arabia and other OPEC nations are reportedly considering increasing their oil production just days after Biden announced that he would grant immunity to Saudi Crown Prince and Prime Minister Mohammed bin Salman for his alleged role in the brutal murder of journalist Jamal Khashoggi.
The Saudi-led OPEC might increase production by up to 500,000 a day. This sudden about-face comes right after Biden promised to grant immunity to the crown prince over the ugly murder of Jamal Khashoggi.
Khashoggi was brutally killed in 2018 in Turkey. Evidence suggested Saudi operatives were responsible, with reports indicating the reporter was killed and dismembered, though his body was never found.
I wonder how the liberal media is responding to the news that Biden's State Department is granting Mohammed bin Salman (the man largely accused of ordering Khashoggi's death) immunity? American news outlets were outraged when he died and pointed their collective finger at MBS.
They wanted his head on a platter and even attacked Trump for not implicating the man. Yet now, Biden is protecting this man–for oil, it appears.
That's a liberal double whammy! Biden is protecting an accused murderer of a reporter for the blood of the earth!? Why aren't leftists foaming out of their mouths with rage?
Oh, because Biden is doing it, not Trump. Democrats don't really care about the issues they care about–more than defending their party. If they really attacked Biden over this, it might hurt his future re-election!
And keeping power is more important than doing what's right, even by their own standards.
Key Takeaways:
Saudi Arabia may increase oil production after Biden gave their crown prince immunity.
Biden's State Department will give MBS immunity over the death of Jamal Khashoggi.
Many in the liberal media blamed MBS for the brutal, unsolved murder of Khashoggi.
Source: CNBC, The Post Millennial