Putin Takes Alarming Nuclear Action – United States Is Now In the Crosshairs of a Moscow Missile Silo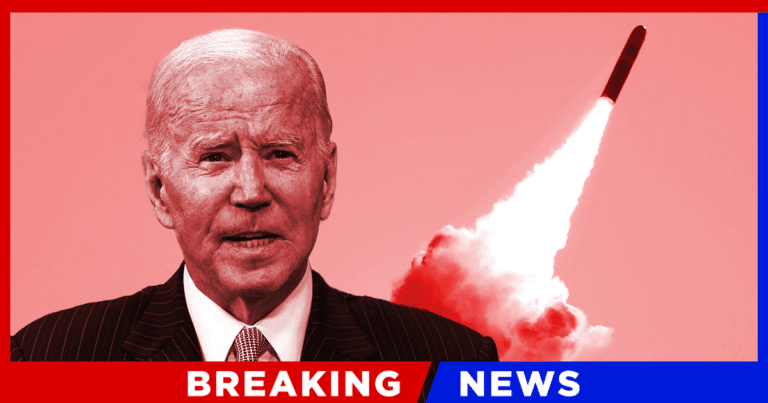 What's Happening:
From the very start of the year, we've known that Biden is not fit to handle Russia. His careless words gave Putin the green light to invade Ukraine. And Biden's spent over $40 billion in tax dollars to fund a war that seems to have no end.
Clearly, Putin is not afraid of this tottering old man. And the Russian tyrant continues to make threats against the U.S. and anyone else who dares confront his evil war. Nobody seems willing to challenge the man. Because of that, he's taken yet another bold, unthinkable step.
From The Sun:
VLADIMIR Putin has renewed his nuke threat against the West by appearing to ready a nuclear missile for launch.

Footage shows a huge Russian Yars rocket able to hit the UK and the US being loaded into a silo at a base near Moscow.

The intercontinental ballistic missile has a 7,500 mile range and when nuclear-armed is reportedly 12 times more destructive than the atomic bomb dropped on Hiroshima.

It was seen in Russian propaganda being installed in a launch-pad using a special transport and loading unit – but there is no indication of any order for an imminent launch.
Reports coming out of Russia suggest Putin has installed a Yars rocket in a silo near Moscow. The Yars rocket has a 7,500-mile range and can hit the U.K. and the United States. If armed with a nuclear warhead, it is 12 times more destructive than the bomb that hit Hiroshima.
This is the latest move from Putin, who appears to be escalating his aggression. His war to take over Ukraine has dragged out across the year. Despite having a larger force, Putin has failed to take Ukraine. That is no doubt in part thanks to the United States, which has burned through cash to bankroll Ukraine's war.
How long before Putin blames America for his failure to take Ukraine? When will he make good on his promise to use nukes against his enemies?
When Trump was in power, he was able to humiliate Russia and get them to pull out of Syria. He did this by showing Putin he was no coward. But today, we have an idiot in the White House whose crooked son once got rich off of Russian investors.
Does anyone really think Biden has what it takes to stop Putin from doing anything? Or is Biden only good at robbing taxpayers and making the military-industrial complex rich?
Key Takeaways:
Reports indicate Putin installed a Yars rocket at a base near Moscow.
The rocket can hit the UK and the US.
Biden has failed to stop Putin's aggression in Ukraine, only funding the war.
Source: The Sun