Hours After Dems Claim They're Pro-Open Schools – Big Blue City Gives Thumbs Up to Teacher Strike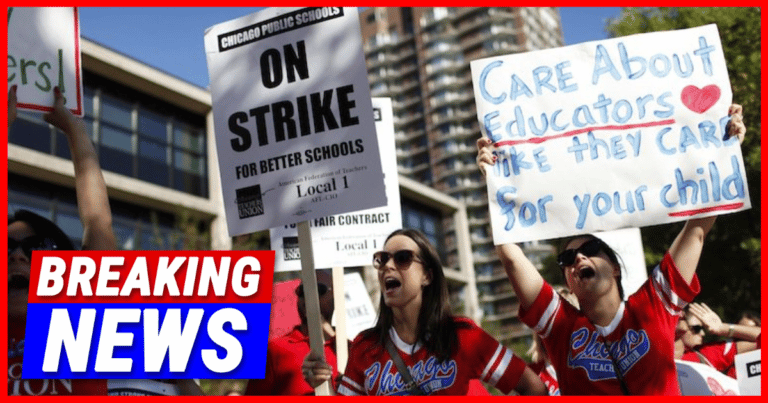 What's Happening:
Recently, the White House has tried to claim Democrats weren't supportive of shutting down public schools.
They even tried to accuse Republicans of doing that–even though Republican-led states reopened much sooner.
Well, their argument just got a lot weaker. Because a major blue city is ensuring schools will stay closed for even longer.
From Just the News:
An on-time start for Seattle schools relies on negotiations as a teacher strike looms.

The Seattle Education Association (SEA) saw 75% of its members vote on authorizing a strike, with 95% of votes in favor of doing so, according to SEA President Jennifer Matter.

"If a tentative agreement has not been reached before tomorrow, our members will be on picket lines," Matter said on a Facebook Live post.
So, let's get this straight. Democrats are so in favor of reopening schools, that they support a teachers' strike.
In blue Seattle, teachers are ready to go to the picket lines over their union's recent demands.
A teachers' strike would mean the school year being delayed by weeks, if not longer.
After two years of shutdown schools, is this really the right thing to do?
Teachers' unions coerced all kinds of perks from school districts during the lockdown. They delayed school reopening's, demanding better benefits and special treatment.
American student reading and math scores are in the toilet, thanks to these unions. The school closures have damaged millions of children's educations.
Yet Democrats pretend like they were the ones quick to reopen schools?
They are letting teachers keep schools closed, even now.
This is a big reason so many parents have pulled their kids from public school in the last two years.
Democrat-run public schools put teachers' unions ahead of children. Children's test scores continue to suffer, as teacher demand longer vacation times and perks.
Did someone say "school choice"?
Key Takeaways:
The Seattle teachers' union might delay the new school year over a strike.
This comes after two years of shutdown schools, thanks to Democrats.
The left has recently tried to accuse Republicans of the shutdowns.
Source: Just the News