Democrats Just Drove Off a Moral Cliff – Planned Parenthood Delivers Double-Whammy: Puberty Blockers and 'Mobile Abortion'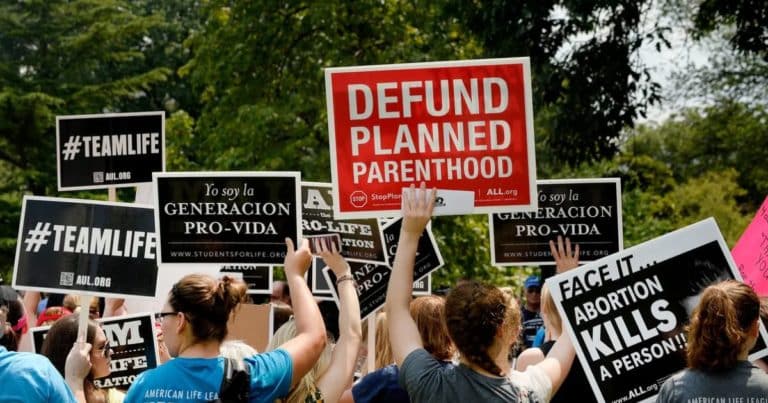 What's Happening:
Democrats continue to conspire to force abortion, in the aftermath of the Dobbs decision.
Numerous states, with the support of their residents, have banned or limited the practice. But that hasn't stopped Democrats from pushing what increasingly looks like an abortion-only agenda.
And now, their allies Planned Parenthood have concocted a new scheme. From Breitbart:
Planned Parenthood released an advertisement for puberty-blocking drugs aimed at minors.

The new advertisement, which is aimed at minors, incorrectly markets puberty-blocking drugs as safe substances that can be used "like a stop sign" to halt puberty.
That's bad enough. But PP is now trying to undermine red states in a move that's sure to blow up in their faces. From NPR:
With a growing number of patients in states that now prohibit abortion traveling for the procedure, Planned Parenthood says it will soon open its first mobile abortion clinic in the country, in southern Illinois..

The mobile clinic will begin offering consultations and dispensing abortion pills later this year. It will operate within Illinois, where abortion remains legal, but will be able to travel closer to neighboring states' borders, reducing the distance many patients travel for the procedure.
You know, it's getting harder and harder for Democrats to claim they aren't a death cult, when they are literally traveling around in a van giving out abortion pills.
Democrats are so desperate to abort babies, they are driving around in a creepy van to do it. This abortionmobile will travel just to the edge of pro-life states, enticing women to cross over the line to get these pills.
You're sounding more and more like predators luring children into vans with candy, Democrats.
The left has long claimed they respect women's choice. But ever since Roe v. Wade was overturned, it's clear Democrats only care about protecting abortion. Some, like Sen. Warren, claimed pregnancy centers (which provide free healthcare for pregnant women) "trick" women and must be shut down.
Without centers like this, many low-income women will have no choice but to abort a pregnancy. Now, Democrats are making sure they can force abortions, by driving around the country selling murder pills.
That's not even enough, as they roll out disinformation ads encouraging children to take puberty blockers. The devil must be very proud of them.
Key Takeaways:
Planned Parenthood is sharing an ad encouraging children to take puberty blockers.
It also has created an abortion van that will go to the border of pro-life states.
The van will provide abortion pills to women seeking abortions.