After Capitol Rally Planned For 'Justice For J6' – Police Will Throw Up The Walls Again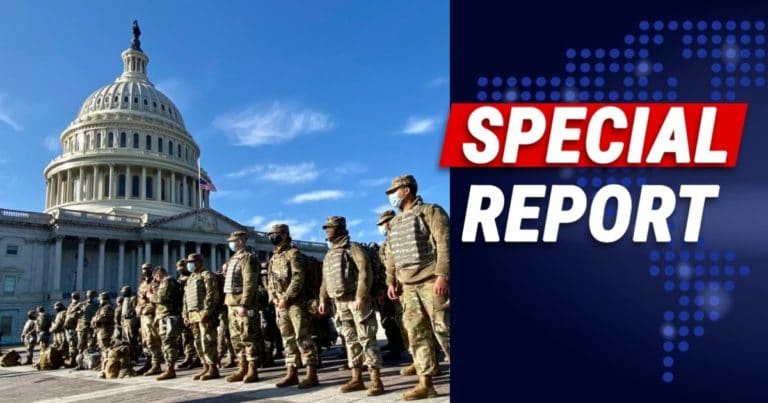 What's Happening:
We can clearly see Democrats using the events of January 6 as a reason to persecute Trump supporters. In fact, they have arrested many caught up in the confusion, even though they are not being charged with violent crimes.
Apparently, these are political prisoners being denied bail.
A group of patriots has formed a rally, demanding justice for these American citizens. Democrats, eager to brand these Americans the enemy, are taking drastic steps. Including erecting more "walls" across the Capitol.
From The Epoch Times:
Fencing will be re-erected around the U.S. Capitol this week as law enforcement officials prepare for a demonstration planned for Sept. 18.

Matt Braynard, a former Trump campaign operative, is organizing the rally to call for the release of people who aren't accused of carrying out violence on Jan. 6 during the Capitol breach but nonetheless remain in jail.

After briefing members of Congress, Capitol Police Chief Tom Manger confirmed the fencing will be put back up ahead of the rally.

"The fence will go up a day or two before, and if everything goes well, it will come down very soon after," he said on Sept. 13.
How interesting. Trump supporters organize a peaceful rally for the release of American citizens. Suddenly Democrats are throwing up their infamous security fencing.
Nancy Pelosi put up that fencing in January, leaving it up for months. Many pointed to it as an ironic symbol of the woman's dictator-like leadership. Although there was no evidence of danger, she demanded it stayed up.
But why is it going back up now? The reason is obvious. Numerous protests and demonstrations have gone on in D.C. since January. Pelosi didn't care about security then (even though people, including Democrats, were arrested).
Now that Trump supporters will be demonstrating, she wants it to look like another siege. All these people want is justice for American citizens. There are plenty of reasons to believe they will be peaceful.
But Pelosi and Biden have been waging a war against conservatives all year long. They want to brand peaceful, law-abiding citizens as "insurrectionists."
I'm surprised she's not putting up watchtowers with gunmen. I guess that's next?
Key Takeaways:
C. police will be bringing back the security fencing around the Capitol.
They are doing it over a peaceful demonstration for arrested Americans.
Pelosi had previously left it up for months, despite no danger.
Source: The Epoch Times