After Record-Breaking Patriotic Project Launches – Liberals Lose Their Minds Over Flag Plan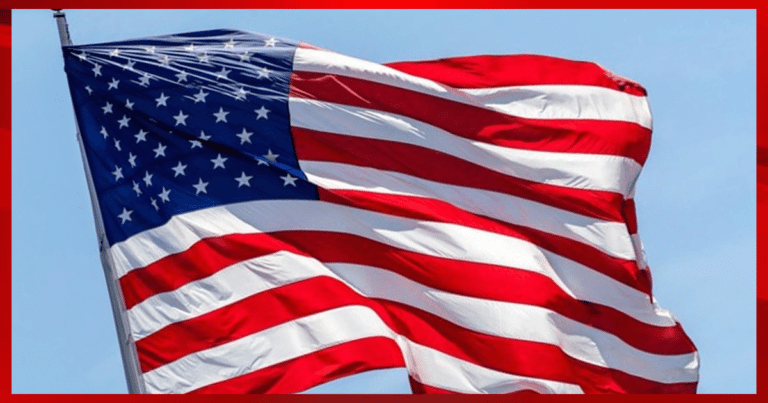 What's Happening:
What brings Americans together? Over the past 250 years, patriots celebrate over far more than their love for fireworks and apple pie on Independence Day.
They celebrate their love for their country; the ideals of life, liberty and the pursuit of happiness; and the Constitution that has brought more freedom and prosperity to the world than any other nation.
And all of that is symbolized by the stars and stripes of the American flag. Some patriots want to unite around that flag in a big, beautiful display… so of course liberals are going to try to put an end to it. From AP News:
Which makes it a striking backdrop to one family's bold vision for the region: a flagpole jutting upward from the woodlands toward spacious skies — the tallest one ever, reaching higher than the Empire State Building. And atop it? A massive American flag bigger than a football field, visible from miles away on a clear day.

To promoters, the $1 billion project, funded in part by donations, would unite people of all political stripes and remind them of shared values in an era of national polarization.
Doesn't that sound amazing? The tallest flagpole in the world, with the American flag flying proudly?
Town residents began taking sides. Some saw a soft-spoken man trying to provide much-needed jobs and doing something good. Others saw a businessman accustomed to getting his way, trying to ram his version of America down others' throats. Patriotism, they said, isn't measured by the height of a flagpole. And divisive political discourse seeping into the local discussion? That's not great, either, says Greene.
So flying the American flag, loudly and proudly, is getting political nowadays? Many in the town in Maine they are trying to grace with this Flagpole of Freedom are pushing back, and it has been frozen by a 6-month moratorium to discuss and decide whether to allow it to be built.
But it seems this beautiful project is exactly what Americans need: they need to be reminded of the heritage we have been blessed with, the great things Americans can do and build if we put our minds to it, and the ability for Americans to unite around good causes.
Hopefully these residents will see the light and allow this patriotic project to be built.
Key Takeaways:
The Flagpole of Freedom project would erect the largest flagpole in the world to fly the American flag.
Residents in the Maine town are divided over whether it would be best for their town.
Source: AP News