Newsom's In-Laws Did Far Worse than Donate to DeSantis – During the Shutdowns, They Fled California And Moved to Florida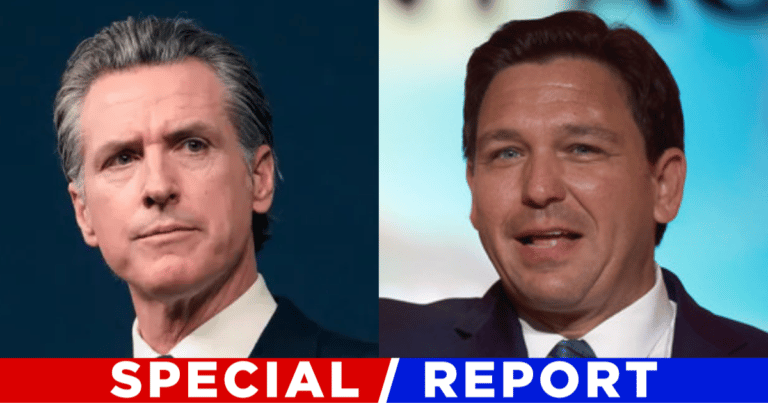 What's Happening:
We learned recently that California Democrat and governor Gavin Newsom's in-laws donated money to help Ron DeSantis.
It seems the Siebels are on Team DeSantis. But it gets even better than that.
From Fox News:
Not only did the in-laws of Democratic California Gov. Gavin Newsom give money to one of his biggest political foes; they fled from his state during the pandemic…

Kenneth F. Siebel Jr. and Judith A. Siebel… became Florida residents in 2020 after purchasing a $3.3 million Naples home in March of that year, records show…

Newsom's in-laws, however, officially became registered voters in the Sunshine State as of June 2020. Kenneth Siebel is a registered Republican while Judith Siebel has no party affiliation.
Why It's Important:
Well, isn't this hilarious?
Not only did Newsom's in-laws donate to Ron DeSantis, but they fled to Florida during the lockdowns!
The Siebels bought a home in Florida in 2020. Not only that, but they appear to change their residency to there, as they are registered to vote in Florida.
And all this happened while their son-in-law pushed extreme restrictions back in their home state.
I guess the Siebels didn't appreciate Newsom telling residents where they could go, what they could do, and what they could wear.
In fact, they joined thousands who left California to move to Florida (although records show they still have a home in CA).
Since 2020, numerous California residents have fled to conservative states. Some neighbors are reportedly empty. In some cases, homes have just been abandoned, people are so eager to get out.
Newsom, terrified of what this could mean for tax revenue, has slandered Florida.
The man claimed that Republican-controlled Florida is robbing residents of their freedom. Hilarious, I know.
And he's promised to donate big bucks to DeSantis' Democrat rival.
I guess the holidays are going to be awkward for the Newsoms this year.
Key Takeaways:
CA Gov. Newsom's in-laws moved to Florida during the 2020 lockdowns.
The Siebels also donated to Republican Gov. DeSantis' re-election bid.
Newsom has stoked up a feud with DeSantis, as Californians flee to FL.
Source: Fox News