Michelle Obama Caught in Twitter Files Dump – She Directly Encouraged Ban on a Sitting President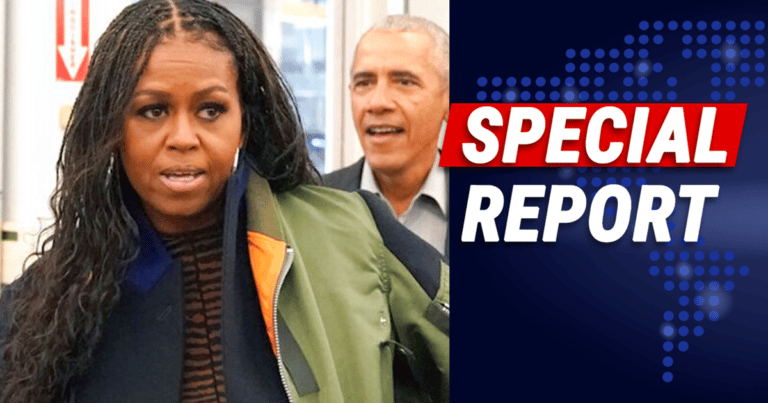 What's Happening:
The social media world is being turned upside down as Elon Musk exposes Twitter's former bosses. The "Twitter Files" series by several independent reporters have revealed what everyone knew was going on. That Twitter's old leftist executives were censoring conservative users for years.
One of the latest Twitter Files reveals what top executives were doing in the lead-up to Trump's permanent Twitter ban. And a familiar name came up during the conversation.
From The Western Journal:
Former First Lady Michelle Obama posted an irate tweet on Jan. 7, 2021, one day after the Capitol incursion…

The message was noted by journalist Michael Shellenberger in the fourth "Twitter Files" release.

"But after the events of Jan 6, the internal and external pressure on Twitter CEO @jack grows. Former First Lady @michelleobama, tech journalist @karaswisher, @ADL, high-tech VC @ChrisSacca, and many others, publicly call on Twitter to permanently ban Trump," he wrote.
Michelle Obama publicly demands Twitter ban sitting President Donald Trump from the platform. Soon after that, an internal conversation is generated by Twitter's top officials. This discussion eventually results in the social network banning Trump for good.
Internal documents revealed the Twitter top brass had long hated Donald Trump. Not over violations of their Terms of Service, but over politics. One top executive said in 2017 Trump was an "actual Nazi." In the aftermath of January 6, they were looking for a believable excuse for kicking him off the network.
But there was clear evidence that Trump was not connected or responsible for the events of January 6. He even tweeted to his followers to go home peacefully. Still, they cobbled together a flimsy excuse, pushing the MSM narrative that Trump was responsible for the events. They claimed his tweets were being used as justification and they shut his account down.
Michelle Obama is implicated in this startling violation of a president's First Amendment rights. She openly demanded the company ban Trump from using Twitter and the company's top executives happily complied. Jack Dorsey, then the CEO of the company, had the power to stop it. But he was MIA for much of went on.
Key Takeaways:
Recent revelations showed Michelle Obama's involvement in banning Trump from Twitter.
Released internal memos show Twitter's top executives were politically motivated to ban Trump.
Social media has been shaken by Elon Musk exposing Twitter's censorship.
Source: The Western Journal