Megyn Kelly Freaks Out Over DeSantis – You Won't Believe the 3 Words She Said to Him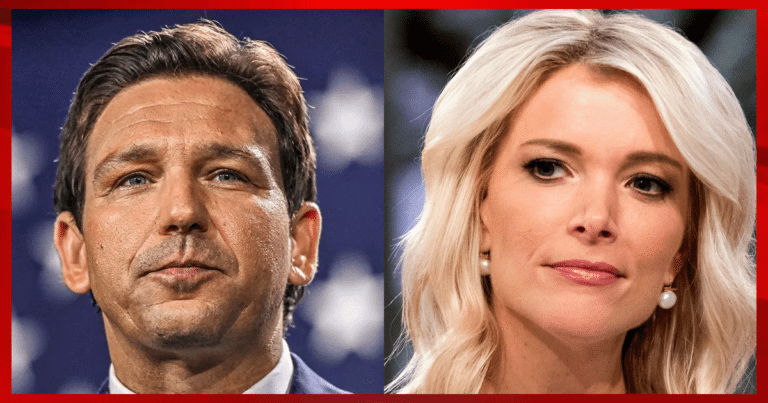 What's Happening:
Once upon a time, Megyn Kelly was a top voice on Fox News. She was known for going toe-to-toe with Trump himself, challenging the GOP candidate during debates. She left Fox News for NBC. The liberal network quickly canceled her show and she ended up on SiriusXM.
Recently, she has weighed in on the intensifying GOP primaries. Florida Gov. Ron DeSantis announced his candidacy, which has already shaken up the race. Kelly decided to criticize DeSantis's announcement, which suffered technical problems on Twitter. But when DeSantis refused to go on her show, she fired off this insult.
From the Conservative Brief:
During a segment on her podcast, Kelly said she was not pleased with DeSantis' announcement on Twitter Spaces with Elon Musk last week…

She also said she's made an attempt to have DeSantis on her podcast but that no one has gotten back to her, which led to her saying the governor needs to "grow a pair" and do interviews that might not always be easy.
According to Kelly, she had "made an attempt" to have DeSantis on her podcast, but she has yet to receive a response from the governor. It could have something to do with her criticisms of his campaign. Or the fact that she has a reputation for ambushing her interviews.
Regardless of the reason, she tried to slam the governor by saying he needed to "grow a pair." Hmm… I wonder why Kelly has trouble getting people on her show.
Ron DeSantis is one of the most successful governors in the country. He won his 2022 re-election by a 1 million vote landslide. He managed to turn the swing state of Florida into a red state. And many believe he has what it takes to defeat Donald Trump and win the White House.
It is probably very likely that he'd sit down with Megyn Kelly at some point. The election cycle lasts for over a year; it would be unusual for him to pass down an opportunity to discuss the issues with a news host.
Kelly claims DeSantis is avoiding her because an interview with her would not be easy. Has she made the same criticisms of Joe Biden? The aging "president" has not sat down for an interview with anyone for months. And he quickly flares up in anger when he is given a tough question.
I wonder if Kelly has reached out to the White House for an interview. I'd be interested in her response if they say no.
Key Takeaways:
Megyn Kelly attacked Ron DeSantis for allegedly declining an interview.
The former Fox News host said he needed to "grow a pair."
Kelly left Fox News for NBC, but was quickly canceled by the network.
Source: Conservative Brief