Meghan Markle Hit with More Bad News – Her Favorite Project Just Got Canceled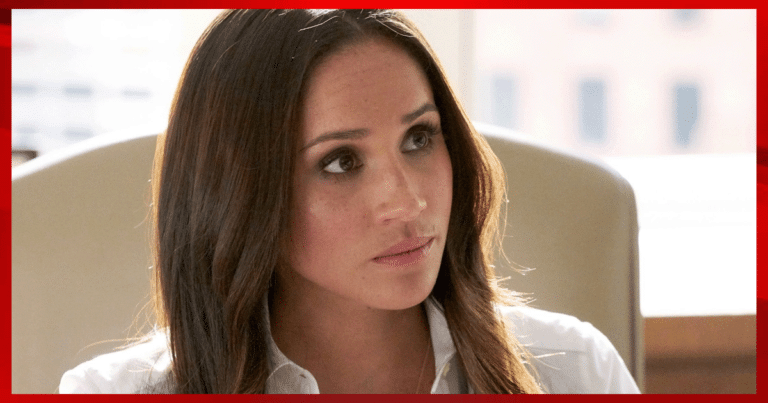 What's Happening:
So, Prince Harry and his American wife, Meghan Markle, burned bridges with the royal family and came to America. Bad move, folks. It seems the couple thought they could milk their family drama to become rich and famous in the USA. But after endless interviews, TV appearances, books, and other content, it's painfully clear America wants nothing to do with these two.
Harry's "tell-all" book seems to have bombed. And they lost a deal with Netflix, meaning they will not be appearing on any new shows at the streaming service. But, Meghan had her deal with Spotify to produce a podcast about feminism. Ooh, that must have gotten millions of downloads. Err… maybe not.
From Daily Wire:
Spotify will not renew Meghan Markle's podcast "Archetypes" for a second season, according to sources familiar with the matter.

Markle's podcast, which explores historical and cultural stereotypes of women, will not return for a second season — a move which sources say is related to Spotify's company-wide overhaul of its podcasting business.
Oh, yes. Spotify canceled this show because they are "overhauling" its podcasting business. Even though podcasting continues to explode with popularity and Spotify had exclusive deals with folks like Joe Rogan–the largest podcaster on the planet.
This has nothing to do with the fact that nobody wanted to hear from this entitled, unlikeable actress about "cultural stereotypes of women" throughout history. No, it's because Spotify suddenly wanted to "overhaul" its podcasting business.
Why in the world did Meghan Markle think she was an authority on feminist "archetypes"? What has she done–at any point in her life–that makes her qualified to host that kind of podcast? Themed podcasts are hosted by experts in a particular field. Other types of podcasts, like talk shows, are hosted by people with interesting things to say.
Markle is neither. She was a B-list actress whose only claim to fame was getting Prince Harry to turn on his family.
I guess that's feminist of her… but nobody wants to hear about it!
But what I find interesting is that Meghan and her husband signed their $20 million deal with Spotify, just before they broke away from the royal family. Perhaps Spotify was ticked off about the couple's decision–and was just waiting to end their relationship?
Key Takeaways:
Spotify ended Meghan Markle's feminist podcast "Archetypes."
This comes as other companies end their deals with Prince Harry and Meghan.
The couple has irritated Americans with their constant whining and complaining.
Source: Daily Wire