Meghan Markle Slammed by Shock Accusation – The 'American Princess' Gets Humiliated in Public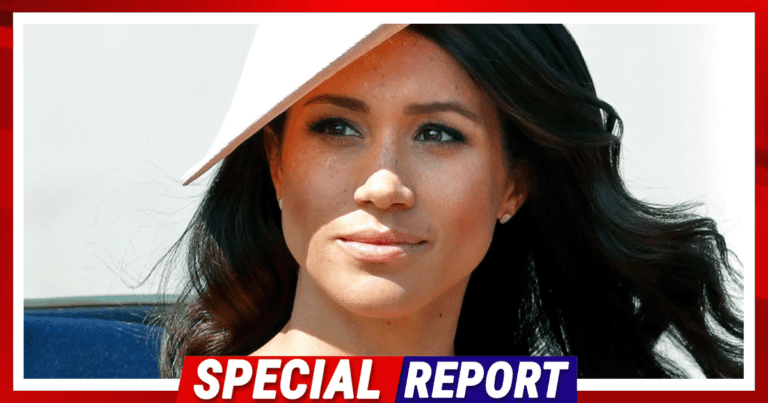 What's Happening:
You have to wonder at the gall of Prince Harry and his obnoxious wife Meghan Markle. The two super-entitled celebrities burned the royal family and expected a warm welcome by Americans. Woke companies rolled out the red carpet for these two, including music streaming service Spotify.
The company actually paid Meghan $20 million to do a podcast about feminism. Big surprise, after only 12 episodes were produced over two years, the company ended the contract. Now, we are learning just how much of an entitled princess Markle appears thinks she is as her staffers come clean.
From Fox News:
After news dropped that Spotify would not renew Meghan Markle's podcast contract, reports came out alleging that the Duchess of Sussex did little work on her own show for which she was under contract with the streaming company for $20 million…

…insiders have alleged that Markle hadn't even conducted all of her own interviews with subjects for the show, claiming that her questions were edited into the podcast's audio after the interviews were conducted by other staff members.
Wow… this is really unbelievable! Meghan Markle was paid $20 million to produce a podcast for Spotify. It was assumed she'd do the work of interviewing famous women and putting together each episode.
But now we are learning she didn't even bother to interview these people. Her staff did and they edited in her voice afterward! Staffers accused Meghan of doing virtually nothing for this show, calling her lazy. After two years, they produced only 12 episodes.
To put that into perspective, the average podcast produces between 50-100 episodes in two years. And Spotify paid this woman tens of millions of dollars for almost nothing.
In fact, Senior Spotify podcast executive Bill Simmons called Meghan and her husband, "f—— grifters."
Yikes. That's not me saying that but someone who actually works at Spotify.
But are we at all surprised? Harry burned his own family and fled to America, to make his wife happy. And the two dummies thought they could appear on Oprah and manipulate Americans into liking them.
At the end of the day, Meghan is just a B-list actress who destroyed Harry's relationship with his family. And Harry is just a black sheep of the British royal family.
Key Takeaways:
Meghan Markle was outed for doing little work for her $20 million podcast.
Her staff did most of the work and only produced 12 episodes over two years.
One Spotify executive accused Meghan and Harry of being " f—— grifters."
Source: Fox News