McCarthy Just Came Through on 7 Conservative Bills – New Rules Package Guarantees They Will Come Up for a Vote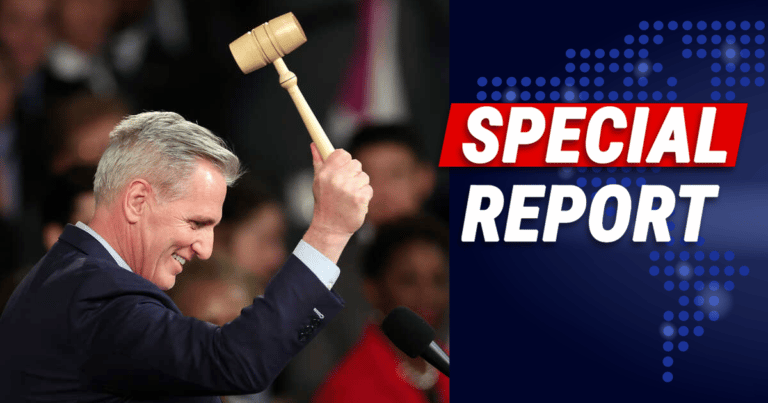 What's Happening:
Twenty Republican congressmen refused to vote for Kevin McCarthy. But the Republican struck a deal with these holdouts, proving his negotiating power already makes him an effective Speaker. Unlike Pelosi, McCarthy is cooperating with both moderate and conservative Republicans, ensuring the entire party is being heard.
And with a Republican back in control of the gavel, the left's agenda has come to a standstill. And seven top conservative bills will get a vote in the new Congress. This isn't what Joe Biden was counting on.
From The Epoch Times:
The rules package includes the following seven bills that are guaranteed to come up for a vote in the House… A bill to cut some of the additional funding that was made available to the Internal Revenue Service…

A bill to authorize the secretary of Homeland Security to turn away people crossing the border illegally… A bill that includes prohibiting the secretary of energy from sending petroleum products from the Strategic Petroleum Reserve to China.
Seven bills will be brought to the House floor, thanks to McCarthy's Speakership. Among these bills are conservative measures millions of Americans have been demanding for years. Some of them address the many failures of the Biden administration.
The bills include a measure to cut the IRS's radical new funding, a bill that requires DHS to turn away illegals at the border, a measure to prevent the U.S. from selling oil to China, and a bill that will come down hard on Biden's crime epidemic.
Another bill will require a "national instant crime background check system" to notify ICE if an illegal is trying to buy a firearm. One of the bills will prohibit tax dollars to fund abortions. And a final bill that will require doctors to provide care for children who survive abortions.
These are some top conservative measures, to be sure. And they have a good chance of passing, with the Republican majority. The question, of course, is if they survive the Senate and reach Joe Biden's desk.
That might sound impossible, but with the House in Republican hands, they have a big advantage. The Senate is still split, especially after Kyrsten Sinema ditched the Democrats. If the left wants anything done in the next two years, they will have to play ball with McCarthy.
Many of these bills can see the light of day, if Republicans are willing to negotiate. If they are smart enough to use their leverage in the House, they can see some of these measures signed into law. This is a big opportunity. McCarthy cannot mess it up, like RINO Mitch McConnell has time and again in the Senate.
Key Takeaways:
Kevin McCarthy will put forward seven bills to a vote after gaining the gavel.
The bills promote conservative measures supported by many Americans.
The bills can be signed into law, if Republicans use their leverage with Democrats.
Source: The Epoch Times