Man Braves Hurricane to Fly Bold Anti-Biden Flag – Video Shows Him in Brutal Winds to Send Joe a Direct Message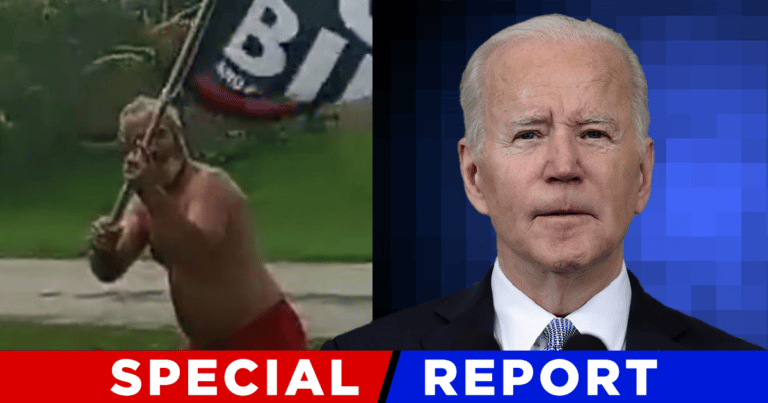 What's Happening:
This week, a Category 4 hurricane made landfall on the Florida coast. The state is still assessing the damage as Gov. DeSantis leads a strong recovery effort.
Millions were evacuated as many hunkered down to face the worst of Ian. But just as the powerful storm hit the coast, one man needed to send Joe Biden a message.
Warning: his flag has some strong language.
From Twitter:
WATCH: Man in Florida holding anti-Biden flag as Hurricane Ian approaches
WATCH: Man in Florida holding anti-Biden flag as Hurricane Ian approaches pic.twitter.com/kw6dxIlqDQ

— Insider Paper (@TheInsiderPaper) September 28, 2022
Hey, when there's a good breeze, you don't want to miss it!
A Florida man was seen holding up a "F**K Biden" flag as the strong winds of Hurricane Ian reached land.
I guess even a powerful hurricane wasn't enough for this man to not express his disgust for the "president."
And this sentiment appears to be shared by millions. Biden continues to suffer dismal approval numbers.
He has failed to reach above 40% for most of this year. Just as we reach the midterms, his approval hovers around 36% or worse.
Numerous Americans have taken up the anthem "Let's Go Brandon" as a coded message to this failing presidency.
But the very worst of this administration, it seems, is its unwillingness to change even as it fails.
You'd think Biden and his cronies would at least try to improve, given their perilous situation.
But even as inflation rages, the economy tanks, and the border rages, Biden keeps pushing the same failed ideas.
It takes a special kind of stupid to do that.
Perhaps a few people will join this Florida man with flags of their own?
Key Takeaways:
A man braves Hurricane Ian to fly an anti-Biden flag.
The flag whipped around in the hurricane winds, showing "F**K Biden."
Biden continues to enjoy very low approval numbers.
Source: Twitter