Rising GOP Star Stands Up to the NFL – Kari Lake Just Dared Them to Yank Next Year's Super Bowl if She Wins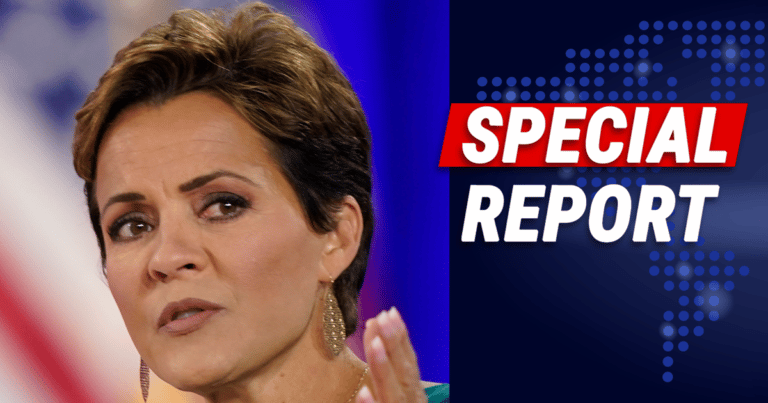 What's Happening:
Much is on the line in the upcoming midterms. If voters elect strong conservatives to office, they can turn the tide of Biden's reckless mistakes. But if Democrats take offices, such as governor seats, all bets are off. We might never recover from their terrible decisions and failures.
In recent years, we've seen professional sports take sides in the political battle. Leagues like the NFL have tarnished their reputations by politicizing America's pastimes. In fact, the NFL seems to be trying to interfere with the election of Arizona's next governor. They might move the Super Bowl if Republican Kari Lake was elected.
This is what the GOP firebrand had to say.
From The Western Journal:
Interviewer Mike Broomhead questioned Lake on the possibility of the NFL changing the venue of Super Bowl LVII — currently scheduled for State Farm Stadium in Glendale — in the event she wins the governor's office…

"I'm not going to be taking marching orders from the NFL," said Lake, a former television journalist.

"I'm taking marching orders from the people of Arizona."
Lake blasted the NFL for trying to interfere with the Arizona election. Rumors abound that the NFL could move the location of Super Bowl LVII if the Republican was elected to office. There is no actual word if the league would do this–but that doesn't stop the liberal media from spreading this kind of hysteria.
But Lake wasn't daunted for a minute. She responded with a perfect rebuke, to both the liberal media and the NFL. She said she won't be "taking marching orders" from the NFL, but from the people of Arizona.
The conservative, if elected, would be on the front lines of one of Biden's evilest schemes. Biden's deliberate neglect of the border has turned Arizona's border communities into a warzone. Lake discussed how drug cartels can easily smuggle lethal drugs into our communities. Many are dying, but Biden doesn't seem to care.
If the Republican is elected, she vows to secure the Arizona border and save lives. She will join the fight of other Republican governors who are pushing back against Biden's vile scheme.
And the NFL should think twice about interfering.
Key Takeaways:
Kari Lake pushed back against speculation that the NFL would move the Super Bowl if she was elected.
She said she will take her "marching orders" from voters, not the NFL.
Lake is a strong conservative who vows to secure the border and oppose Biden's agenda.
Source: The Western Journal