After Kamala Harris Gets Plummeting National Poll – The Vice President Races Off To Repair It By Flying To Paris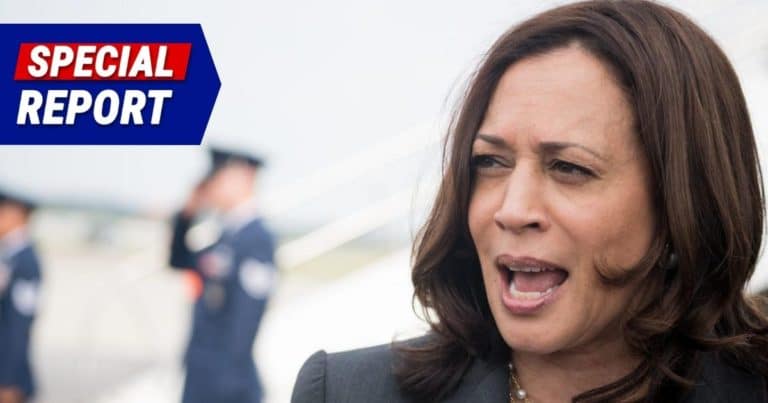 What's Happening:
What can we say about "Vice President" Kamala Harris? She might have the title, but what has she done to ensure this country is becoming a better place? She was given a crucial task by Biden to "fix" the border crisis. She didn't even visit the border, which is still being overrun by migrants.
Other jobs she's done haven't been stellar. And Americans have not been impressed. In fact, her latest approval is very bad.
From The Western Journal:
Vice President Harris' approval numbers have hit rock bottom, earning her the distinction of having ranked at a "historic low"… Harris has just 28 percent approval.
So, what is Harris doing to repair her image with the American people? Fly to Paris, of course.
From Fox News and France 24:
US Vice President Kamala Harris arrives in Paris on Tuesday for a four-day visit aimed at restoring ties strained by a secret US-British submarine deal with Australia that left France in the lurch.

Harris will hold four days of meetings in Paris with French President Emmanuel Macron and other world leaders, delivering remarks at a peace forum and taking part in a multilateral conference on Libya.
Oh, this is going to go over well! After receiving some of the worst approval numbers for a vice president ever, Harris fled to Paris. She is supposed to repair the rift Biden made by snubbing France during a vital arms deal. France was so outraged it canceled an event celebrating our relationship and pulled its ambassador—something that has never happened.
But the person Biden is sending to repair this serious breach is… Kamala Harris? What is she going to do when things get tense between herself and the French president? Because, I have to tell you, laughing awkwardly is not an option.
And is this the most productive thing the VP can do at a time like this? America is suffering due to rising fuel costs, a weak economy thanks to inflation and worker shortages, and a crippling supply chain crisis. That's not to mention rising crime in blue cities, an open border, and the growing threat from the Taliban.
Any one of those issues is more important. Yet the first second she gets, Harris is on a plane, prancing around the cameras of a foreign media. She did it when she was supposed to fix the border. She did it after Biden failed in Afghanistan. And she's doing it now.
Geez, it's like neither one of them wants their approval to improve!
Key Takeaways:
Harris has received the worst approval numbers of a vice president in history.
She flew to Paris in response, to mend fractured ties with the country.
Harris has done little since entering office that impresses Americans.
Source: The Western Journal, YouTube, France 24