'Quid Pro Joe' Hit with Fresh Impeachment Threat – They Claim Biden Is Swaying Votes with New Executive Action to Release Stockpile Oil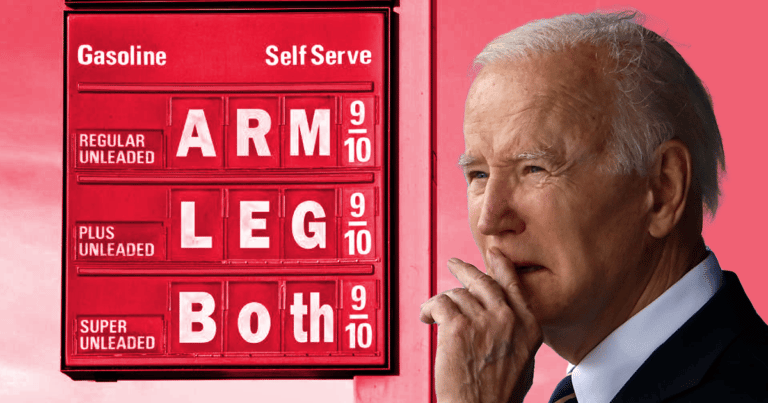 What's Happening:
Biden saw his approval tick up–just a little bit–when gas prices started to ease over the summer. What Biden didn't understand was that prices when done–because people stopped traveling. The summer vacation season was crippled because Joe is preventing American companies from drilling.
Things got really bad for Democrats when gas prices started to surge again in September. They are poised to get much worse, now that OPEC+ cut back production. But what is a corrupt, useless, powerless president to do in the face of losing votes? Release more oil from our Strategic Reserve to bamboozle voters!
From OANN:
The Biden Administration is reportedly planning to release 10 to 15 million barrels of oil from the Strategic Petroleum Reserve…

According to reports, the White House is looking to bring down gas prices and to balance markets ahead of the midterm elections. The sale would market the remaining 14 million barrels from Biden's previously released 180 million barrels. The May release was the largest-ever in the reserves history.
This latest Fox News clip explains the energy price pressures on the Democrats, and Biden's questionable response to them weeks before the election:
As usual, Biden is trying to slap a Band-Aid on a gaping wound, he caused. Instead of leasing out federal land to greatly lower gas prices, Biden is giving up millions of barrels meant to be kept in times of emergency.
Many critics accuse Biden of trying to buy votes with this move. Gas prices might go down a few pennies from this decision. And a few voters will be dumb enough to think Biden is doing something.
But soon enough, oil prices will skyrocket once again. Anyone that voted Democrat, thinking Biden was doing something, will deserve the messed up city or state they are in.
Biden is doing nothing to solve America's energy problems. Energy prices are soaring as we enter the winter. And Biden is preventing the one thing that can save us.
Depleting the reserves only puts us in greater jeopardy. How stupid do you have to be to release that oil, when we are on the verge of war with Russia and China? Is Joe actually an American president or is he a sleeper agent for our enemies?
Biden is single-handedly hurting our national security. And Republicans will have good cause to investigate when they retake the House.
Key Takeaways:
Biden is releasing more oil from the reserves, to lower gas prices right before the midterms.
That oil is meant for emergencies like war; Biden is using it to buy votes.
If the oil is depleted too far, the country will be vulnerable if faced with war.